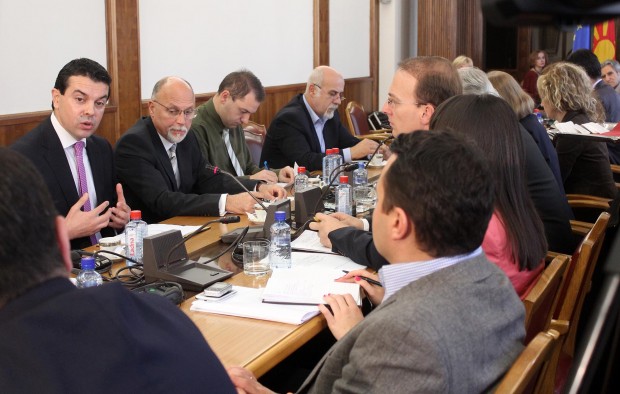 Skopje, November 15, 2013
Foreign Minister of FYROM, Nikola Popovski has reported today in front of MPs in the foreign parliamentary committee, by explaining the recent developments on the name dispute with Greece, expectations from the EU Council December Summit for FYR Macedonia and other issues that relate to the cooperation with neighboring countries and region.
Popovski said that the recommendation granted by the European Commission for the EU to start talks with FYROM about the accession and the admission of the country as a member of the Human Rights Council of UNO may be considered as a success for 2013.
"For the fifth time in a row, we were recommended to start negotiations, but the blockade of Greece is the main problem. The reason for the delay on granting a date for the start of negotiations is known", said Popovski. Popovski also commented on the Greek presidency of the EU which will start on January 1. Popovski said that the country will not allow an approach which will jeopardize the Euro integrating aspirations of FYROM and the dignity and credibility of EU in the enlargement process.
The foreign minister said that 2014 will be a dynamic year in the aspect of the engagement and focus toward strategic objectives such as NATO accession and EU.
Speaking on the regional cooperation, Popovski said that upon the incentive of the government of FYROM, a joint meeting between the two governments will be held once elections in Kosovo are finalized.
He said that the meeting was scheduled to take place on an earlier period, during the summer, but upon the request of Kosovo's authorities, it was postponed as a result of the local government elections taken place in Kosovo.
So far, government of FYROM has held joint meetings with the government of Serbia and government of Bulgaria.
The foreign minister also talked about the representation of Albanians in this ministry, stressing that their level of representation amounts to 23%. He stressed that in the diplomatic aspect, there must be professional employees and not mere figures. /ibna/