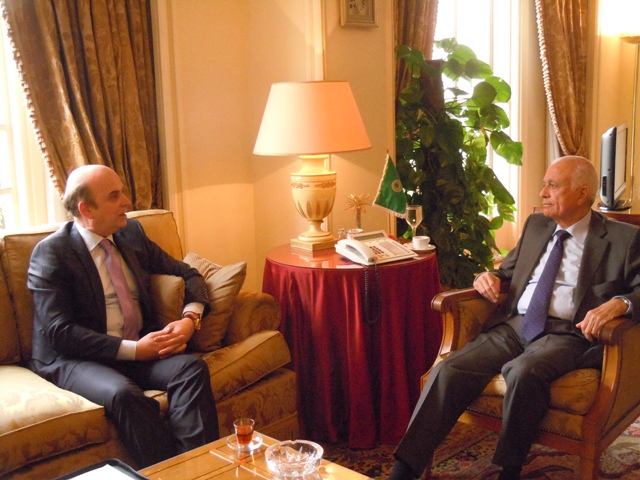 Tirana, April 2, 2013
On the second day of his visit to Egypt, Albania's Foreign Minister Edmond Panariti held a meeting with the Arab League Secretary General,  Dr. Nabil Elaraby.
Panariti praised the role of the Arab League on the international scene, in particular its efforts to foster cooperation between member states, as well as thje League's increasing cooperation with the UN on issues of global peace and security.
Sources at the Ministry of Foreign Affairs say the situation in the Middle East, the Syrian conflict and the Palestinan issue in particular, were discussed at length.
Minister Panariti welcomed the Arab League's condemnation of the Syrian government's violence on its citizens as well as the League's recognition of the Syrian opposition as the legitimate representative of the Syrian people.
In relation to the Palestinian government,  Panariti noted that the Albanian government supports the right of the Palestinian people to self-determination and that the peace process should carry on on the principle of the co-existence of two countries, Israel and Palestine, in peace and mutual security, as the only stable and acceptable solution.
Panariti asked that the Arab League encourage its member countries to recognize Kosovo's indipendence. /ibna/