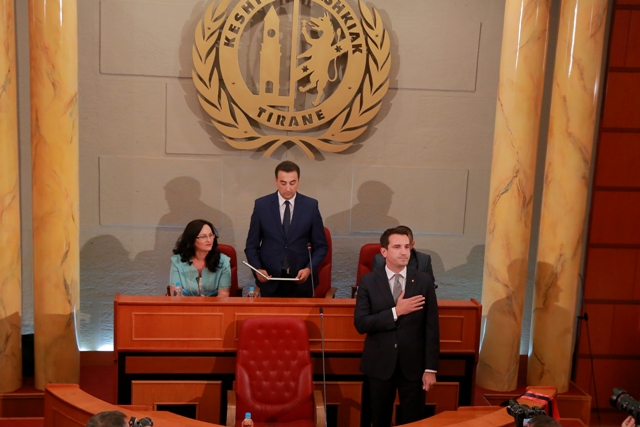 Tirana, 30 July 2015/Independent Balkan News Agency
By Edison Kurani
Former minister of Social Welfare and Youth, Erion Veliaj, took his oath today in front of the Municipality Council of Tirana as the new mayor of the Albanian metropolis.
Erion Veliaj held his first speech as mayor, where he expressed the need of cooperation between all sides for the city.
He said that he's the mayor of every citizen of Tirana, leftist or rights and appealed: "I extend the hand of cooperation to all of those who have something to give to this city, because we can be socialists or democrats, but above all, we're citizens of Tirana. Therefore, let us get to work today, because the citizens are expecting a lot and four years go by very quickly. In four years, I don't want to come before you with a list of justifications, but with a list of completed works. With a city that may not be perfect, but at least, better than the one we're being left with today", Veliaj said.
The meeting continued with the election of the new head of the Municipality Council. Majority councilors proposed the current head, Aldrin Dalipi as chairman of the new Municipality Council.
In this meeting, the member of PDIU (the TCham Party), Vjollca Braho was elected as vice chairwoman of the Municipality Council of Tirana.
Erion Veliaj, 36 years old, started his career in Albania after studying abroad. He became the head of an organization called "Mjaft", which often attacked the then socialist government of PIM Fatos Nano. Later, "Mjaft" was openly against the government of prime minister Sali Berisha. A few years later, the role of "Mjaft" started to become less important. At that time, another organization was born, G99 and the chairman of this organization was Erion Veliaj. This organization turned into a political party, but its impact in votes was weak.
Veliaj approached the Socialist Party and soon became one of the names closer to the head of the party, Edi Rama. In 2013, he was elected a socialist MP to then become a minister. In 2015, he left all his offices for the municipality of Tirana, a race that he won by a wide margin against the opposition candidate, Halim Kosova, a gynecologist, who in 2013 served as a minister for a few months. /ibna/