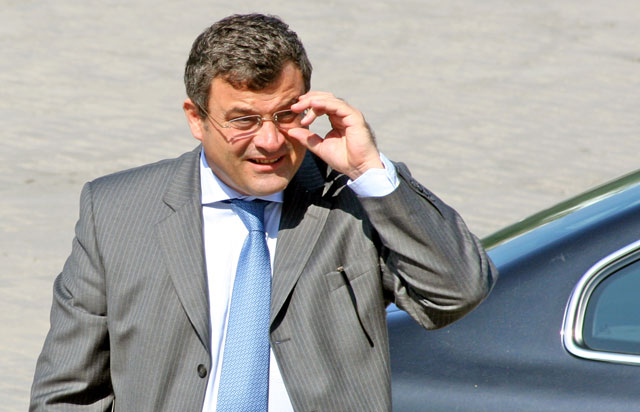 Democrat MP Arben Imami reacts: A primitive revenge. Warning for Edi Rama: "You're crossing the legal, ethical and political red line. Your threats do not intimidate anybody, let alone me"
Tirana / Balkan Independent News Agency
PUBLISHED: 13:57, 9 December 2013 | UPDATED: 18:06, 9 December 2013
New Minister of Defense, Mimi Kodheli declared today in a press conference that she has filed criminal charges at the prosecution against the former Minister of Defense, Mimi Kodheli.
Mrs. Kodheli said that a team of experts has pressed brought these charges based on suspicions that Mr. Imami has abused with public funds.
The new minister didn't issue details on the charges and concrete facts which have led to these charges to be brought against Arben Imami.
"I don't feel good about the fact that I must press charges about by predecessor, but these serious violations cannot be overlooked", said Mimi Kodheli.
It had been several weeks that the media in Albania talked about charges being brought against the former Minister of Defense, Arben Imami and even about his arrest. If such arrest takes place, than this would be the first one of a minister in Albania in the recent years.
Arben Imami reacts
The decision of the Minister of Defense, Mimi Kodheli to bring charges against former Minister of Defense, Arben Imami, is considered by the latter as politically motivated primitive revenge.
In a declaration issued today, Mr. Imami said that "Albanian citizens must know that at the Ministry of Defense there's been no abuse with the law and their money".
In his declaration, Mr. Imami launched a number of accusations against Kodheli and Rama.
"Both of these persons have been the heads of the most corrupted institution of Albania in these 23 years, the Municipality of Tirana", said Mr. Imami.
Imami said that for two years he has faced unfair accusations by the opposition which is governing the country today, adding that Kodheli was obliged to bring the charges in exchange of the post as minister.
"Today's act of Mimi Kodheli represents a personal primitive act of revenge. She had to fulfill this condition in order to be appointed as Minister of Defense".
At the end of the declaration, Mr. Imami also launched a warning for the prime minister: "I'm addressing to Mr. Rama. He's crossing the legal, ethical and political red line. Your threats do not intimidate anybody, let alone me". /ibna/