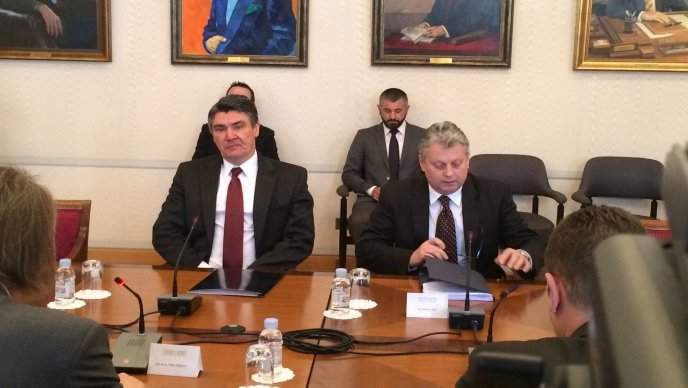 Zagreb, April 24, 2015/ Independent Balkan News Agency
By Marija Avramovic
New Minister of Culture Berislav Šipuš was sworn on Friday in Parliament – His appointment was supported by 78 MPs, 23 were against and two abstained.
Representatives of the Croatian Democratic Union (HDZ) were unhappy with the parliamentary Rules of Procedure, which provided that the candidates for the Minister could be discussed only in the sessions of the relevant committees, and not at the plenary ones, as well as the fact that yesterday they were not able to ask the Prime Minister Zoran Milanovic any questions about the new Minister.
"The Prime Minister appears at the Committee's session, gives a short speech of two minutes, proposes a candidate and disappears without a trace, while claiming that many things were unclear to him. You can ot ask him whether he knew of the improper use of the cards for which the Minister Andrea Zlatar Violić left, and which are mentioned also in the case of Šipuš", Jasen Mesic from HDZ said.
Independent representative Branko Vuksic thinks that former Minister and associates whom she had elected should have left the Ministry of Culture all together, among them is the new Minister Šipuš, who was her deputy, while Vuksic also condemned Šipuš's criticizing of media for reporting on irregularities in the ministry identified by the State Audit.
State Audit Office recently discovered that the money from the official cards of the Ministry of Culture for two years have been withdrawn in cash and subsequently repaid to the Ministry's account.
Several MPs tried to back the former Minister of Culture, claiming that there was no longer need to speak about someone who did her job with integrity and that she did her best, considering the circumstances in which she was.
The new Minister of Culture was born in 1958 and in parallel with the study of art history at the Zagreb Faculty of Philosophy studied composition at the Music Academy in Zagreb.
His was appointed Deputy Minister of Culture in December 2011 and is not a member of any political party.