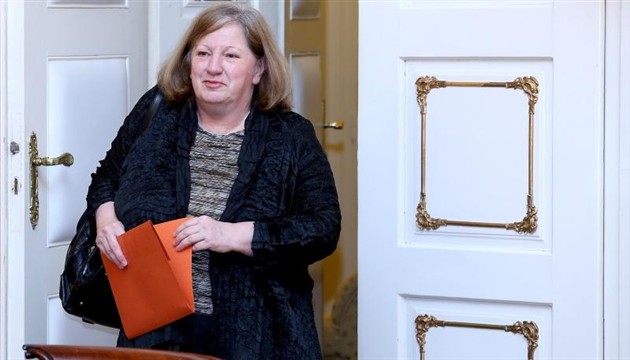 Zagreb, March 24, 2015/ Independent Balkan News Agency
By Marija Avramovic
Economy Minister Ivan Vrdoljak confirmed on Tuesday that the minister of culture Andrea Zlatar Violić is leaving the Government and that the Croatian People's Party (HNS) has a replacement on her position.
Deputy Prime Minister and head of the HNS, Vesna Pusic, met this morning with Prime Minister Zoran Milanovic in order to jointly decide the fate of the Minister of Culture for the recent discovery of the State Audit Office that the money from the official cards of the Ministry of Culture for two years have been withdrawn in cash and subsequently repaid to the Ministry's account.
The Commission for Conflict of interest has found in 2013 that Andrea Zlatar Violić was in conflict of interest because of which she was fined with 15 thousand kuna.
It is expected that the successor of the Minister of Culture should be officially confirmed on Thursday, when the presidency of HNS is about to meet.
Political analyst Davor Gjenero said that, in this case, the resignation of current minister is the only solution.
'I'm very sorry that this happened to her. I have a very good opinion about Andrea, I am convinced that she is a moral and honest person, but it is a situation that requires her immediate resignation and hope she shoulders all consequences", Gjenero noted.
Djenero's peer, Zarko Puhovski, warned that the minister of culture could actually serve to wash the sins of others within the ruling coalition.
Puhovski warned that since Kukuriku coalition won the election, the moral quality, has been a bit washed up in the last three years, but now, "just before the elections it could happen that Andrea Zlatar Violić become the one upon who they will prove, for all to see, that they have principles after all".