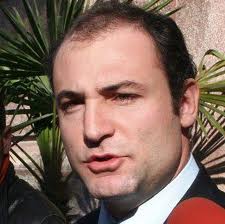 Skopje, April 30, 2013-The Albanian Minister of Foreign Affairs, Aldo Bumçi has arrived today in Skopje for a one day official visit.
Minister Bumçi is expected to meet with his counterpart, Nikola Popovski, where both personalities will talk about the relations between the two countries, developments in the region and the Euro integrating process for both countries. Ministers Bumçi and Popovski are also expected to discuss on new incentives and proposals for the growth of cooperation between the two countries.
After the meeting with Popovski, minister Bumçi will meet with deputy Prime Minister for Euro Integration of FYROM, Fatmir Besimi and then the meetings will continue with the President of the country, George Ivanov and the speaker of parliament, Trajko Veljanovski.
After Skopje, the Albanian Foreign Minister will visit Tetovo, where during the afternoon he will stay at the State University of Tetovo to hold a speech relating to the European integration of the Balkan. Afterwards, minister Bumçi will have meetings with the leaders of the two Albanian political parties, Ali Ahmeti and Menduh Thaçi. The visit will conclude with a meeting with the newly elected mayor of Tetovo. /ibna/