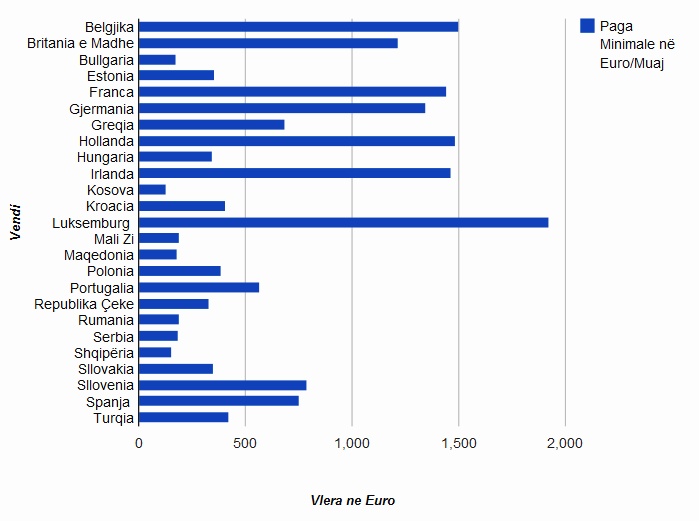 Tirana, March 17, 2014/Independent Balkan News Agency
Albania has the lowest minimum wage in the Balkan and Europe. The monthly minimum wage on a national level is 22.000 ALL or around 160 Euros. This wage is paid for 174 hours of work a month carried out during official work hours.
Minimum wage is the lowest wage which must be paid by every employer, domestic or foreign, in the private or public sector. The minimum wage is determined by the Council of Ministers upon the proposal of the Ministry of Labor.
Aranita Brahaj, directress of Open Data Albania told IBNA that OPA is conducting a study on the minimum wage in the country, Balkan and Europe.
"Compared to the countries of the region, our country ranks last with a 156 Euros minimum wage. The youngest state in the Balkan, Kosovo too applies a special minimum wage based on the age of the employee. For employees from 35 to 65 years of age, minimum wage is 170 Euros a month, while for employees under the age of 35, minimum wage is 130 Euros a month", says Brahaj.
Other countries of the region such as Croatia, Montenegro, FYR Macedonia or Serbia apply higher minimum wages than Albania.
European countries apply higher minimum wages than the Balkan and Albania. According to the data from Eurostat and Institute of Statistics of respective countries, compared to the EU countries, Albania once again ranks last. The highest minimum wage is applied by Luxembourg with 1921 Euros a month and then Belgium, Ireland, France, Great Britain. Germany applies a minimum wage based on sectors and the lowest pay rate is 7 Euros an hour for 48 hours of work a week.
Among the countries with the lowest minimum wages, which doesn't exceed 200 Euros a month are Bulgaria, Serbia, Montenegro, Romania, while Italy, Denmark, Austria, Finland, Sweden, Switzerland and Norway do not apply an official minimum wage.
Minimum mandatory wage is seen by several private businesses as a good way to pay fewer taxes to the state. Many people who are employed in private companies are paid wages several times higher than the minimum, but their employers declare the minimum mandatory wage, by saving funds for wages and taxes and other obligations. /ibna/