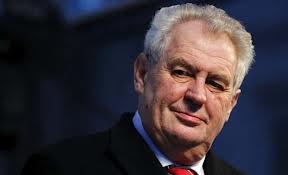 By Spiros Sideris – Rhodes
On September 28, 2014 on Greek Island of Rhodes during 12th annual session of the World Public Forum "Dialogue of Civilizations" the President of Czech Republic Miloš Zeman was awarded with the Dialogue of Civilizations International Prize for outstanding achievements in implementation of the principles of dialogue of civilizations in the world and for notable efforts in fostering the peacekeeping activities in the world. The award was given by founding president of the World Public Forum "Dialogue of civilizations" Vladimir Yakunin.
"We have a common enemy, this enemy is named international terrorism" – has noted Miloš Zeman in his speech.
The International "Dialogue of Civilizations" Award in previous years was also given to the Federal Chancellor of Austria Dr. Alfred Gusenbauer, President of Kazakhstan Nursultan Nazarbaev, 5th President of Iran Mohammad Khatami.