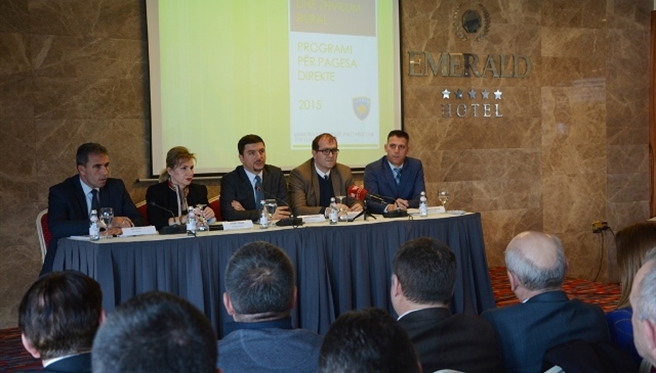 IBNA Special Report
Pristina, March 4, 2015/Independent Balkan News Agency
By Elton Tota
Kosovo's government has presented the new plan for the development of agriculture, which is expected to have an impact on the reduction of unemployment in the country. Subsidies for agriculture and investments will reduce the dependency of the country from imported products and will enable the opening of new jobs.
Minister of Agriculture, Memli Krasniqi presented the program for agriculture on Tuesday before farmers and agricultural officials.
"This year's program which has a budget of 43 million Euros, will not only offer support through grants and direct payments, which aim at increasing agricultural production, its quality, farming structures and the increase of revenues for farmers, but it will also offer new facilitating criteria for farmers. The programs are concrete and they address the needs of the agricultural sector, thus having an impact on the development and strengthening of the country", Krasniqi said.
Krasniqi said that grants consist of 20 million Euros, while direct payments this year amount to 23 million Euros.
"This will help support each agricultural culture. These programs include facilitating criteria for farmers who create jobs. During this term in office, based on the government program, we will have new orientations, focusing on subsidizing interest rates for farmers, investing on food safety by reforming the control system, we will draft supporting programs reforming the control system even more, we will draft programs to protect programs from climate changes and we will also offer advisory services, because our farmers need professional advice in harmony with modern practices", minister Krasniqi said.
The minister also expressed his commitment in order for transparency and efficiency at work to be a priority.
He said that this principle must be valid for everyone and that this is the only way that results can be achieved.
This year's program on agriculture and rural development, through investment grants amounting to 11 million Euros, will be supported by Measure 101, which involves investments in physical assets, Measure 103 which involves investments in physical assets of processing and trading of agricultural products and which will be supported with 5 million Euros, while diversification of farms and the development of rural areas will be supported through grants amounting to 1,5 million Euros.
This year, 300 thousand Euros will be allocated for the drafting and implementation of strategies for local development and 2 million Euros will be allocated for the irrigation of agricultural lands.
USA-EU will offer strong support for agriculture in Kosovo
Kosovo's agriculture will also be supported by US and EU programs.
USAID's program will help the government of Kosovo to invest 520 million Euros in agriculture in the next 12 years.
Head of economic development office at USAID, Scott Cameron says that this will be done thanks to a project that aims at securing loans of up to 50%.
He says that this will enable the creation of 60 thousand jobs or 5 thousand jobs a year.
"With an initial capital of around 13 to 14 million USD, during a 12 year period, we're hoping on injecting 650 million USD into the economy in the form of support loans for more than 45 thousand small and medium sized enterprises and this will create 60 thousand new jobs", he said.
According to Cameron, USAID will continue to back the private sector through its program "Strengthening of the Private Sector".
According to him, businesses that will be able to benefit from these funds are those businesses specialized in leather clothes, processing of wood, processing of fruits, renewable energy, etc.
Cameron says that youth of Kosovo has a brilliant future, therefore he called for their creative business ideas.
Kosovo's agriculture will also be assisted by the EU through IPA instrument.
Kosovo will be part of IPA's budget from 2014 until 2020. IPA includes those countries that have been granted the EU associate candidacy and Kosovo will be one of the beneficiaries of these grants.
IPA has also included in this budget countries which are not an EU accession candidate and a large percentage of these funds will be allocated to agriculture.
The main criterion of benefiting these funds is the impact of these projects in economic developments, community and their impact in the economy of a country.
Professor of agricultural policies at the University of Pristina, Halim Gjergjizi says that agriculture in general must be one of the priorities of Kosovo in the near future.
"Meeting the country's needs and exporting must be a priority. Agriculture is truly a resource which must be favored in the future", Gjergjizi adds.
The fertile land and the suitable atmospheric conditions in Kosovo, favor, according to agricultural experts the quick recovery of this sector, while institutions of Kosovo and foreign funds support Kosovo's farmers. /ibna/