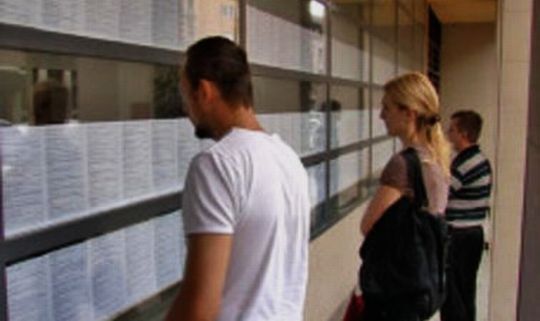 By Maja Tuljković – Sarajevo
Based on records of the B&H Employment Services, on 30 September of this year there were 55.087 people, and in comparison to last year there are 9579 more people. However, according to data from the B&H Labor and Employment Agency, the number of unemployed people in comparison to last month is less by 733 people, or 0,13 percent.
Among the structure of people looking for employment, at the end of September, there are also people with higher education, and there are 38.353 of them, or 6,91 percent. The largest number of registered unemployed peoples are those with a third level education (skilled workers) at 34,55 percent.
The reports and recommendations are always changing, and unemployment is always growing. The highest number is composed of young people, who after they finish faculty, spend years at the bureau waiting for a job. The high level of youth unemployment has lasting consequences for the economy, because youth unemployment is costing the economy of a country at an annual level between up to one percent of gross domestic product.
However, what is all the more disheartening is the fact while young people are waiting at the unemployment bureau, a quality work force is being lost. Waiting for a job impacts on the loss of acquired knowledge and confidence.
A positive example is the formation of the Center for Information, Counseling and Training in Employment Service during 2011. Across the country, networks of 16 CISO centers opened and are an effective tool in the fight against youth unemployment in B&H. Above all, the focus of CISO centers is on employment, raising the capacity of young people to get and maintain a job, and employment is therefore only a result of these activities. Youth in the centers learn how to write a CV, how to behave at job interviews, there are trainings in computer science and English language, and they are offered advice on how to choose a faculty.
Also, UNICEF B&H acts preventively and in modernizing the education system in hundreds of schools throughout B&H, and with partners introduces into the curricula and programs key competencies and life skills. Youth will also be ready for the labor market, and will have everything that employers expect of them today.
Of course, this will all be in vain if new jobs are not created and if the business environment and rating of B&H does not improve.