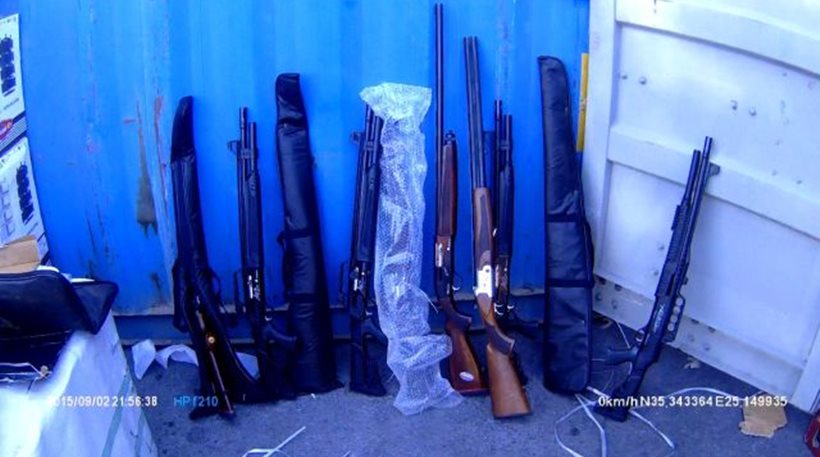 Athens, September 3, 2015/ Independent Balkan News Agency
By Spiros Sideris
Close to half a million bullets and 5,000 weapons have been uncovered so far by the men of special missions, during an investigation operation that was carried out on the cargo ship «Haddad 1», which has been sighted at dawn Tuesday sailing the coast of Ierapetra.
Already the information that had seen the light of say spoke of a whole arsenal on board the cargo ship, but none was able to grasp the amount of balls and weapons.
On the freighter – which arrived at dawn at the harbor of Heraklion – there are a total of 14 containers that contain weapons.
Late afternoon was completed the count of weapons that are contained in two of the 14 containers.
According to information from cretapost, two containers contained 491 950 bullets of 9 mm and about 5,000 guns – shotguns, the type used by the police.
The counting continues in the other container
The particular ship, flying under a Bolivian flag, was spotted and immobilised on Tuesday morning, in the sea area 20 nautical miles southeast of Ierapetra from an open sea patrol boat of the Coast Guard, which carried members of the Special Operations Unit of the Port Authorities of Crete.
It is noteworthy that the documents accompanying the cargo of the ship do not mention the existence of the obtained weapons and ammunition, while according to information, the weapons and ammunition were carefully hidden underneath simple cargo (drawers, cupboards and plastic gymnastic mats) deeper in the container, a fact that shows the organisation and the security measures adopted for the illegal transportation of the smuggled weapons, so that they would not be noticed in a simple check.