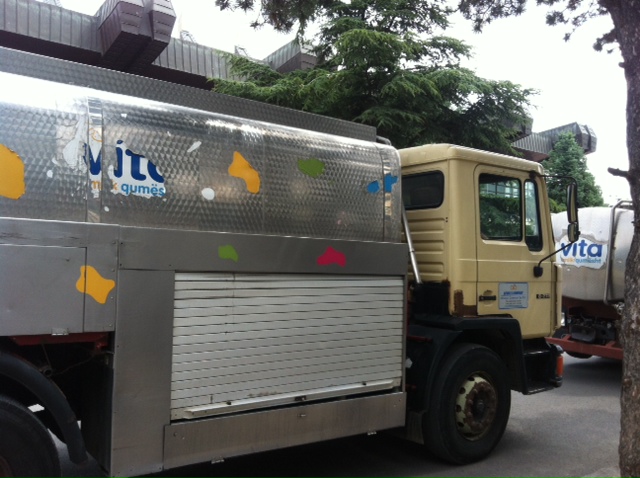 IBNA Special Report
Pristina, July 15, 2014/Independent Balkan News Agency
By Elton Tota
Association of Diary Products of Kosovo and Association of Milk Producers have protested today in front of the government building, in order to demand for barriers that they face to be removed.
They have demanded an immediate suspension of the import of those products, for which they claim that they don't even meet the minimum consumption criteria
As a sign of protest, they have poured in "Ibrahim Rugova" square several hundred liters of milk.
"We have gathered here to express our indignation and our big disappointment in relation to the negligence of the institutions of Kosovo to address the problems accumulated throughout the years", said Ramadan Memaj, head of the Association of Diary Products of Kosovo.
According to him, if until May 23, their demands are not met, the protests will expand in the entire territory of Kosovo. They have also said that they will suspend the processing of milk in the whole country.
Milk producers and processers in Kosovo demand from the government to take adequate measures in order not to allow the import of high fat milk from abroad, to take measures against subsidized milk products, to take educating measures in order for more domestic products to be consumed more and to review all signed agreements and for nobody to blame UNMIK about everything.
"This industry will not be able to survive for a long time if our demands are not taken under consideration", said Memaj.
A speech was also held by Milazim Memaj, head of the Association of Milk Producers in Kosovo, who said that the policies followed up until now by the government do not allow domestic producers to survive.
Super production of fresh milk, import of milk which doesn't meet standards, dumping products that come to Kosovo, are the some of the problems that milk processers face.
Unfortunately, these positive developments taken place in the milk industry have not been reflected in the measures taken by the Ministry of Commerce and Industry, as far as the aspect of the protection of domestic products is concerned.
It's been several years that the market of Kosovo continues to be swarmed by damping products. Then there the problem of the products that come from abroad and the issue of subsidized milk products.
It's a true handicap that Kosovo has a law which guarantees protecting measures, but no measures have been taken so far in order to protect the milk sector. /ibna/