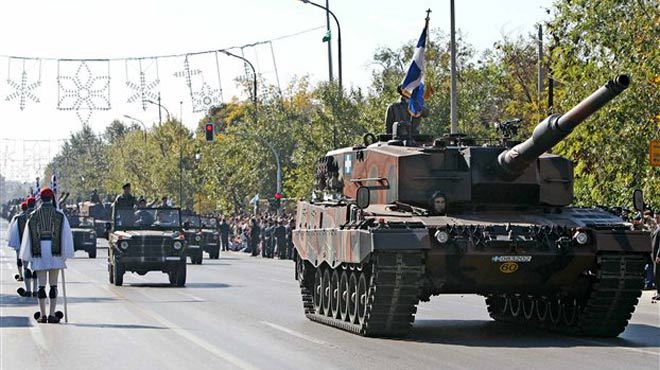 By Spiros Sideris – Nicosia
With the military parade that was held under tight security in Thessaloniki culminated the events for the National Day of October 28. The parade started at 11.00 and ended at 1.10 with an impressive epilogue that included maneuvering, low-flying and a touching message from the operator of the F-16, Sotiris Stralis.
The impressive display of acrobatics from the F 16 fighter jet of the Greek Air Force, piloted by flight lieutenant Salvation Stralis from 115 Combat Wing at Larissa, "stole the show" in the big military parade.
"Happy Birthday Thessaloniki. Happy Birthday Macedonia. Happy Birthday Greece. The Greek air demonstration team wishes all Greeks … happy birthday and calls you once again: Raise your head high". With these touching words from his cockpit, which the crowd was able to hear through  the speakers that had been set in the area of the parade, flight lieutenant Sotiris Stralis sent a message of support to the Greek people, just before performing his impressive maneuvers over Thessaloniki, writing an impressive epilogue to the celebrations.
The political and military parade (walkers and motor), which took place on Alexander the Great street, was attended by the President of the Republic Karolos Papoulias and the Defence Minister, Dimitris Avramopoulos,
Security measures were particularly strict. Along the street, railings had been installed on both sides. In addition, no one was allowed to reach within a radius of some hundred meters from the podium of the officials.
After the parade, the President spoke of a day of commemoration and honor to those who sacrificed themselves in 1940 for a democratic Europe and sent a message of unity, saying that the crisis will not defeat the Greeks.
Under heavy security were also held the student parade in Athens and in all cities.