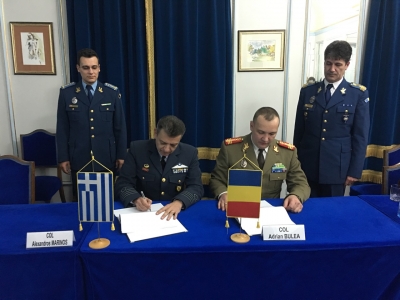 As of recently, Greece and Romania have signed a 2018 Military Cooperation Program (MCP).
Activities in the fields of operational and individual training are part of the MCP.
The latter, was signed in the Romanian capital by the Chief of the International Military Cooperation Department of the Hellenic National Defence General Staff (HNDGS) International Relationships Directorate, Colonel HAF, Alexandros Marinos and the Head of the International Defence Cooperation Directorate of the Romanian MOD, Colonel Adrian Bulea.
A Greek NDGS delegation visited Bucharest (from February 21-23, 2018) "in the frame of the 2018 Military Cooperation Program (MCP), between Greece and Romania", the official HNDGS page reads, informing of the current development regarding their bilateral cooperation…/IBNA
Photo: HNDGS