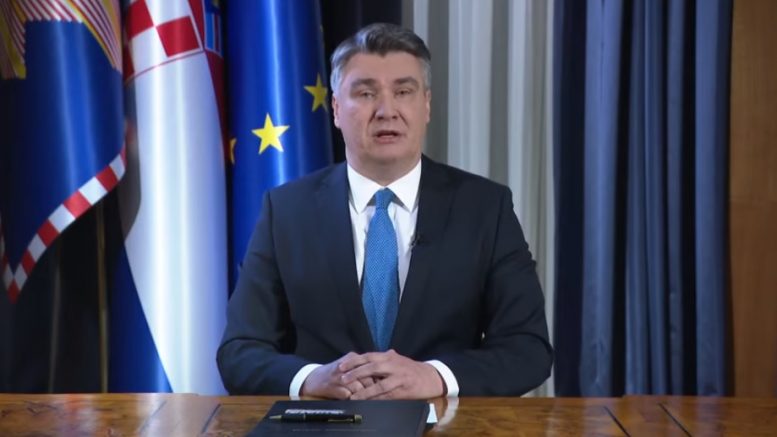 Croatian President Zoran Milanović addressed the nation on Wednesday evening, saying that Croatia has taken appropriate action to prevent the spread of the coronavirus pandemic and calls on the public to follow the instructions of the National Civil Protection Authority.
"Today I signed a decree amending the Civil Protection Act giving greater powers to the National Civil Protection Authority. I expect all of us to seriously adhere to the instructions and decisions issued by the Authority because in this crisis that we are faced with, the state is working for our benefit and it is working a lot, and in my opinion, it is doing a good job", Milanović said in an address to the nation which was aired by all national television stations.
"However, the personal responsibility of each of us, to adhere to the rules that we have been talking about for days, will make the difference between success and failure, between the length or shortness of this crisis, not necessarily between life and death", he underscored.
Milanović said that the crisis was addressed in a good way from the start. "The crisis, after all, is not so big. It is good that we approached it relatively seriously from the start and not at one moment did we fall victim to low or heavy feelings, much less panic, which is a word I do not wish to use at all", the president said.
Milanović said that Croatia was not at war, but in a crisis, facing a challenge. "We are in a crisis that will pass, I dare say, in a few months. However, its consequences, particularly its economic and social consequences, will remain. The question is when we will be able to fully open our borders and function the way we have virtually until yesterday", Milanović said.
"Like any crisis, this one too will end with a certain amount of damage done, but it will also teach us lessons that we will be able to rely upon when a new crisis comes upon us", he added.
"Economic damage will certainly be considerable, and we need to realise that and accept it. What the government is doing right now are temporary measures, which I support. Their budgetary and monetary effects will be clearer to us from day to day, from week to week, and these measures will certainly be changed", the president said.
Milanović said he was encouraged by the fact that Croatia was doing more or less everything that its EU neighbours were doing, "some of which are among the richest and best-organised countries in the world, with the best functioning public healthcare systems, yet things that we can call mistakes to happen even there. This is a chance for us to show that we are mature people and responsible individuals."
Referring to reports that still not enough tests were being carried out in Croatia, he said that the public healthcare system was showing solid results, praising all healthcare professionals for their efforts./ibna