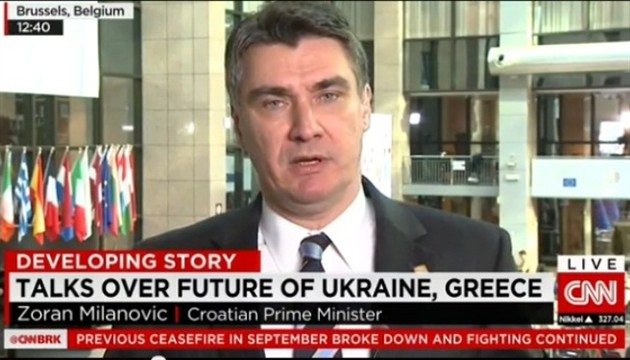 Zagreb, February 13, 2015/ Independent Balkan News Agency
By Marija Avramovic
Croatian Prime Minister Zoran Milanovic said in Brussels on Thursday that he stood united with Greece, but that European rules must be respected, and added that he hasn't got "too much confidence" in the new Greek government.
Speaking to the reporters just before the emergency Summit of Heads of States and Governments of the EU, Milanovic said that this meeting would mainly be about Greece and Ukraine.
After reaching an agreement on stopping the fighting in the east of Ukraine which comes into force on Sunday, Milanovic expressed hope in a statement for CNN that the recently agreed a ceasefire in that country this time would truly come to life.
The leaders of Ukraine, Russia, Germany and France agreed at the summit in Minsk, Belarus on cessation of fighting in the east Ukraine after 17 hours of negotiations, while the White House still claims that the price Moscow will pay, if it should continue to assist the separatists, is going to be even bigger.
As for the increasingly louder announcement from the White House about the possible arming of Ukraine in order to, in the words of President Barack Obama, defend the country from 'Russian aggression', and the questions would that be good or bad, Prime Minister Milanovic said that it was up to America to decide.
"Basically, Russia has violated the sovereignty of another state, took Crimea from it, and that is something you just don't do", Milanovic noted, stressing that the Croatian authorities were pretty restrained in their statements about Russia's role in Ukraine because Croatia primarily wants cooperation with Russia.