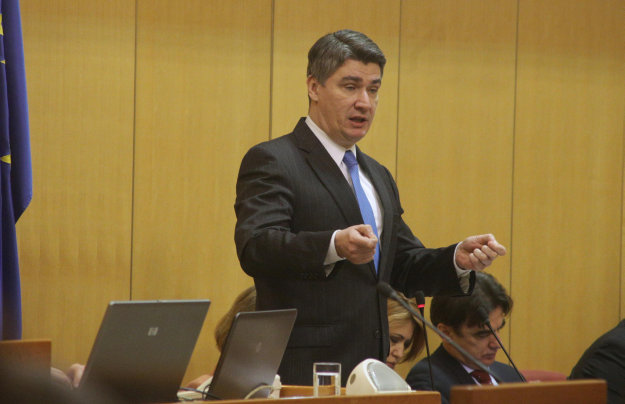 Zagreb, January 29, 2015/ Independent Balkan News Agency
By Marija Avramovic
Reporting on last year's meetings of the European Council (EC), Prime Minister Zoran Milanovic announced today in Parliament that the time when Croatia would begin to realise a long-term and stable growth is near.
He referred to the EU policy towards the Member States, but also to the moves that his government has made in the previous mandate, especially when it comes to the economy and the crisis the country is in.
The highest priority of the EC was given to finding a solution that should lead to GDP growth, economic growth and new employment.
Milanovic said that the cuts in budgetary spending were necessary, but it would be a futile business if   an increase in GDP is not achieved or there are no new jobs.
"Everybody has finally realised that fiscal responsibility is necessary, but that it is simply not a sufficient condition for creating new jobs and economic growth. I certainly would not want someone to interpret these words of mine as if the reduction of the budget deficit and public debt is a second-rate task and our less important work", Prime Minister noted.
He reminded that his government, after all, managed by savings and rationalisation to bring the budget deficit last year to 12.800.000.000 kuna (1.664.000.000 euro), which is almost three billion kuna less than planned.
There is still room for additional relief budget, Milanovic believes, and outlines that there is no need to fear that the functioning of the state or pensions, wages, rights of Croatian war veterans, health care and free education will be affected in any way.
Speaking about the aims of the European Union, Milanovic pointed out that Croatia will insist on social solidarity, which was, as he said, showed with the government's reaction in the case of loans in Swiss francs.