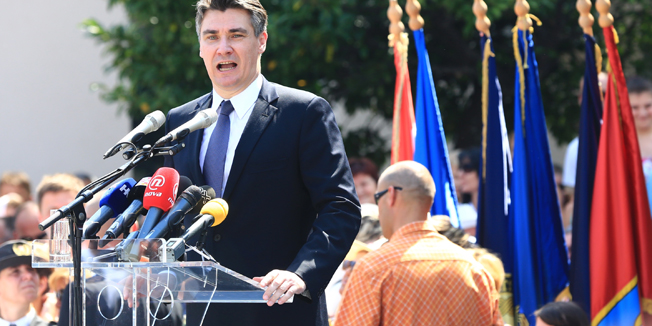 By Natasa Radic – Zgreb/Knin
The celebration of Victory and Homeland Thanksgiving Day in Knin, on August 5th was an inconvenient epizode for the Prime Minister Zoran Milanovic and President Ivo Josipovic. Throughout the Prime Minister's commemorative speech, mass crowd "welcomed" Milanovic by whistling and booing him, while Josipovic was booed in the part of his speech in which he talked about reconciliation between Croats and Serbs. Epilogue of the incident – one person arrested even though the entire crowd yelled from the top of their lungs, whistled and called senior government officials with derogatory names.
The day after police announced they have arrested one person who booed the Prime Minister, the office of Zoran Milanovic issued a public statement. The Prime Minister pointed out that it was clear that the police will prosecute whistleblowers, but he said that he believes "it makes no sense to prosecute people who were whistling and shouting and interrupted the prime minister's speech, because the right to criticize and have a different opinion is a commonplace in a democracy. "
24 hours Express weekly published an interview with Luka Kozina from Knin, 61-year-old retired war veteran who has charged for Knin incident.
-Milanovic told the Interior Minister to arrest all those they can and then they found me. Everyone booed, and I do not know how to whistle but instead I yelled as I always do in similar situations. I yelled at him asking why Milanovic is not ashamed to spend summer vacation on the island of Hvar with the family for 50 kuna per day (8 euros), while 20 people are guarding him and it costs the government ten million kuna (1.5 million euro) each day – said Kozina to Express reporter.
-I yelled at him asking him why is he not ashamed to do that while the workers and retirees dig through garbage. And I yelled at Josipovic too, saying he should be ashame because he lets Tomislav Nikolic kiss him three times – said Kozina.