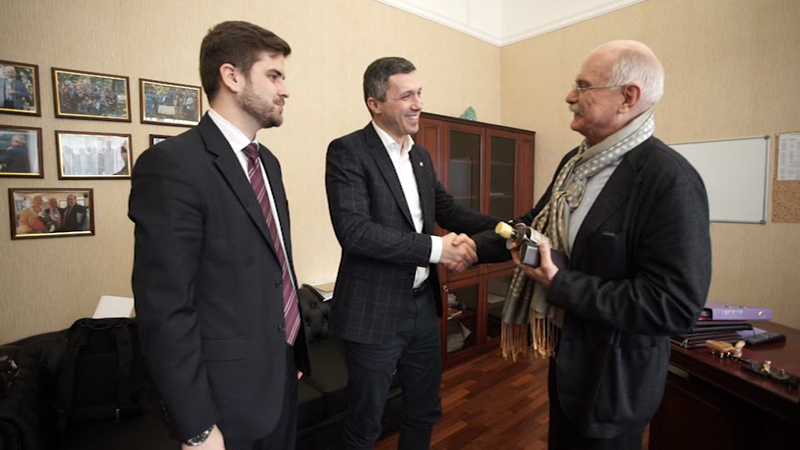 Bosko Obradovic, leader of Serbian conservative party 'Dveri' and presidential hopeful visited Russia where he met filmmaker Nikita Mikhalkov. According to statement released by 'Dveri', Mikhalkov said that "in the elections the Serbian people should soberly elect a candidate that will not disappoint them".
The presidential elections in Serbia will be held on April 2. If nobody gains enough votes, a run-off could be organized on April 2016, the accounts say.
Mikhalkov also said that "Slavic world feels lonely in global space".
"When the West offers us spiritual and intellectual 'McDonallds' instead of our inner, spiritual freedom and identity, it seems to us that could be the solution. But it's not. We pay the bill afterwards ant then it turns out that we have to pay much higher than we can afford for that hamburger", Mikhalkov said according to Dveri.
Simultaneously with Obradovic's visit to Russia, the leader of the pro-Russian Serbian National Party (SNP) Nenad Popovic visited Crimea to strengthen his group's relations with the United Russia of Vladimir Putin.
"Deep in the hearts of the people who live in Crimea, but also in the hearts of the people throughout the Russian Federation, Crimea was always an integral and inalienable part of Russia. And by us in Serbia, everyone regards with respect and admiration the courage and firmness of Crimea's citizens to get back to Russia", Popovic said in the Crimean parliament in Simferopol, SNP stated./IBNA
PHOTO: Bosko Obradovic (in the middle) with Nikita Mikhalkov