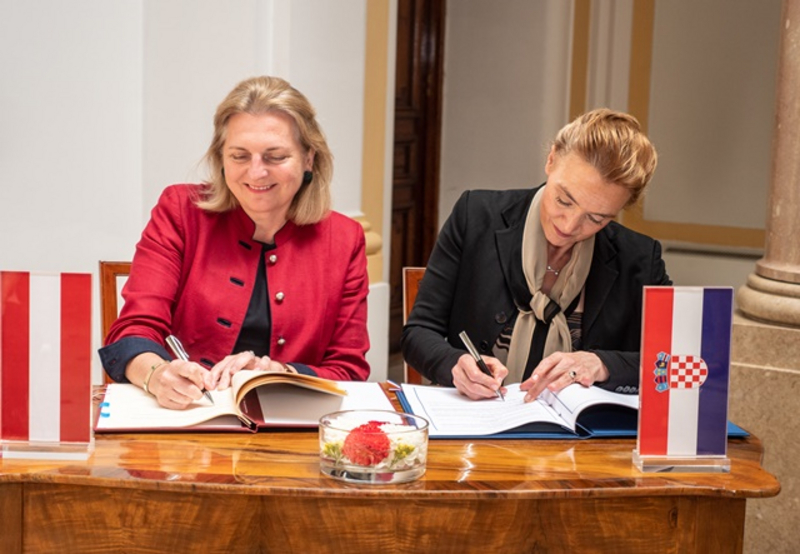 Foreign Affairs ministers of Croatia and Austria, Marija Pejčinović Burić and Karin Kneissl respectively held a meeting in Zagreb, Tuesday, where the main focus was on migration, especially so since Austria is now holding the presidency of the Council of the European Union.
The Croat FM underlined the need for Croatia to join the Schengen Area as soon as possible: "The Schengen acquis was formulated before the current global order, at a time when it was impossible to imagine any problems in terms of illegal migration."
In light of the non-ending migration crisis that has turned the condition at European border stations upside down and has caused deep friction between EU member-states (with some of them insisting on unilateral measures, such as Hungary and the barbed wire fence it built as a border barrier on its border with Serbia and Croatia in order to stop migrants from entering its territory. The strong disagreement's Orban's government still has with many other bloc states has not stopped making headlines even today. The Hungarian head of government currently offered his relevant "know-how" to his Montenegrin counterpart, during his latest visit to Podgorica, in case Montenegro wanted to deal with the ongoing migrant influx more effectively. The Montenegrin premier Duško Marković kindly declined the offer, saying that, "so far" there is no such need) the two ministers talked about the matter as extensively as possible, with Marija Pejčinović Burić noting that by joining the Schengen Area, Croatia could avoid becoming a new 'hot spot' for illegal immigrants.
"It is important that we agree on adequate mechanisms and that they are implemented at our borders", replied her Austrian counterpart.
As HRT reported, minister Karin Kneissl was also received by Croatian President Kolinda Grabar-Kitarović and the state's PM, Andrej Plenković, "with whom she discussed strengthening economic ties between the two countries, Croatia's joining the Schengen Area, security in southeast Europe and continued EU enlargement in the region."…. / IBNA
Main Photo: Austrian Foreign Affairs Minister, Karin Kneissl (L) and Croatian Foreign and European Affairs Minister, Marija Pejčinović Burić (R), July 24, 2018 – Zagreb