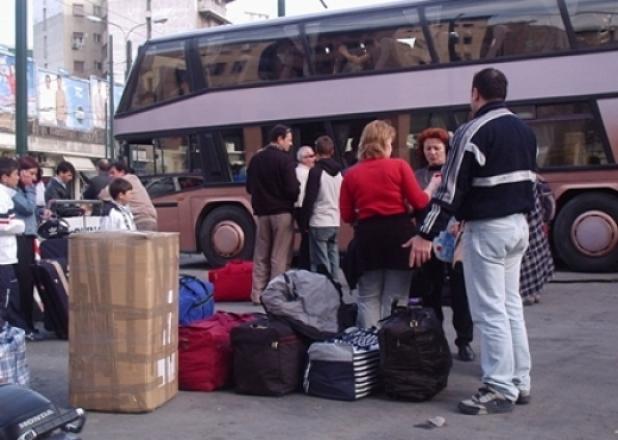 IBNA Special Report
Pristina, December 23, 2014/Independent Balkan News Agency
By Elton Tota
The European Union can delay for another year the decision for the liberalization of the visa regime for Kosovo nationals. According to analysts, such delay comes as a result of the fears that several EU member countries have about the rise in the number of illegal emigrants from Kosovo and also about the high rate of unemployment.
Professor of European law, Muhamer Pajaziti told IBNA that illegal migration prevents the liberalization of the visa regime.
"The fact that Kosovo nationals are seeking asylum in western countries, shows that Kosovo has not met the criteria imposed by the European Commission. Illegal migration comes as a result of the failure to deliver economic and political criteria along with European standards. People are fleeing because they feel marginalized and discriminated. The country is not able to offer them work, good health services, good education or social allowance to survive", says Pajaziti.
He says that the new government must boot its efforts for the integration and re-integration of these people in the social and economic life of the country, otherwise, says he, visas will not be lifted for another year or so.
"Otherwise, this massive exodus will continue and without any doubt, it's preventing the process of the visa liberalization. As far as the dialogue for the liberalization of the visa regime is concerned, it's not in the interest of Kosovo for the number of Kosovar asylum seekers in the EU to grow", says he.
According to him, this problem is also encountered by other countries of the region such as FYR Macedonia and Serbia.
"If this massive exodus continues, Brussels may restore the 'Shenghen wall'. This, due to the fact that based on new regulation, EU governments will be able to restore the visa requirement for West Balkan countries", says he.
The same opinion is also shared by the European Law Professor, Avni Mazrreku.
He told IBNA that for as long as there's a growing number of asylum seekers, the fulfillment of all the criteria for the liberalization of the visa regime by Kosovo will not be enough.
"In the case of Kosovo, when it's still in the process of the liberalization of visas and there's a large number of people fleeing to EU countries, this is the most negative signal that Kosovo sends at the time being", says Mazreku.
Mazreku says that even countries that have been granted the liberalization of visas, such as Serbia and FYROM, have faced the issue of the reintroduction of the visa regime, following the high number of asylum seekers from these countries.
In the past three weeks, around 800 people from all communes of Kosovo have attempted to emigrate in western countries, but they were stopped on the border by Kosovo police.
They declared that they were aiming to emigrate in western countries such as Austria, Germany and Switzerland. /ibna/