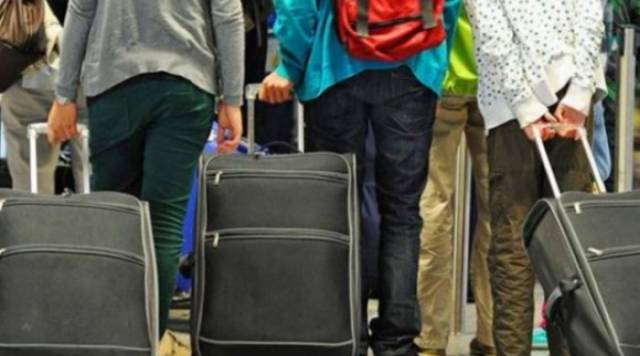 IBNA Special Report
Pristina, November 24, 2014/Independent Balkan News Agency
By Elton Tota
Citizens of Kosovo continue to migrate to EU member countries through illegal ways.
In the recent days alone, tens of buses have left from Ferizaj filled with people who say that they're setting off in search of a better life.
These people say that their first destination is Belgrade and then continue to follow illegal routes toward Romania or Hungary, in order to end up in France or Belgium.
"Poverty and misery obliged me to put my family in danger and seek asylum in France. I have sold a part of my possessions to pay those who enable illegal routes in order for us to make it to France. I have heard that this country offers asylum for Kosovo citizens, as Kosovo is in the list of unsafe countries", says Sh.M, 38 from Ferizaj.
He says that he was unable to secure incomes for his three children and his wife in Kosovo.
"My dream is to move to an EU member country. I do this for the children. At least, they will have a better future, better education, health services and a better living standard", says he.
Mimoza M. from Pristina saw her son and her two nephews leave home a month ago, but she doesn't even know where they went. She only knows that she spent all of her savings to pay traffickers in order to smuggle the boys into another country.
The same opinion is also shared by other travelers, the majority of whom are young people.
Kosovo's European Youth Committee (KEYC) says that it's closely following the situation that the young people in the Republic of Kosovo are going through.
KEYC says that the factors obliging young people to leave the country include the difficult economic situation, the poor educational system, crime, corruption and their inability to travel to EU countries without visas.
"We're seeing more and more of the previous situation where every day, we used to see 30 buses filled with young people leaving Kosovo without a clear destination, with the aim of just leaving Kosovo", says the president of KEYC, Abdulla Hasani.
According to him, those citizens who want to leave Kosovo are young people from the age of 25 to the age of 32, who have completed their studies and who cannot be employed in their profession.
He says that institutions of Kosovo must engage in preventing this phenomenon, in order for young people not to end up in the streets of Europe, but to be offered stability and work in Kosovo.
Hasani also said that police of Kosovo must arrest criminal groups that are receiving enormous amounts of money from young people in Kosovo offering them hope for a better life in western countries.
The information campaign about the consequences of illegal emigration is one of the forms of preventing this phenomenon. Institutions for the prevention and fight of human trafficking are making inquiries in order to stop and arrest traffickers, who are carrying out these activities.
Medium term measures include economic development, attraction of investors, the opening of new jobs for young people and social allowances for people in need, say sources from the Ministry of European Integration.
Government of Kosovo is coordinating its actions with the prosecution and police of Kosovo to repatriate asylum seekers who have reached European countries and prevent this phenomenon.
EU office in Pristina has also expressed its concern in relation to the rising number of illegal emigrants from Kosovo to EU member countries.
According to experts, the main reason for the rise of migration relates to the weak economy and high unemployment. Meanwhile, the fulfillment of the action plan for the liberalization of the visa regime would have an impact in stopping the trend of asylum seekers from Kosovo. /ibna/