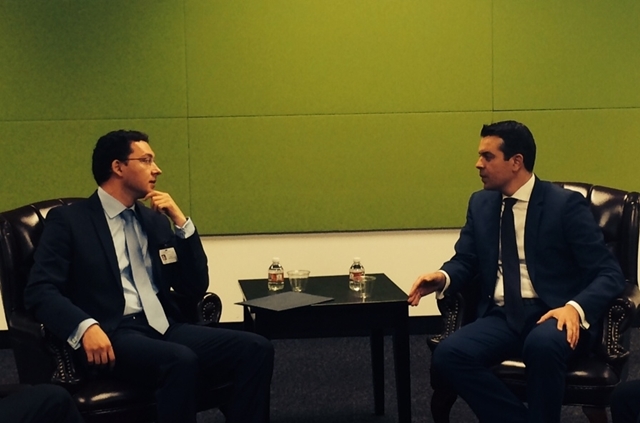 Sofia, September 29, 2015/Independent Balkan News Agency
By Clive Leviev-Sawyer of The Sofia Globe
Bulgarian Foreign Minister Daniel Mitov held talks with his counterpart from Skopje, Nikola Poposki, in New York on September 29, with the two discussing the migration crisis, bilateral relations and projects of mutual interest.
According to the Bulgarian Foreign Ministry, at the talks – held as the annual UN General Assembly opening session was to get underway – Mitov pointed out the priorities of Bulgaria in the field of infrastructure, transport and energy projects.
"You can count on our co-operation in the implementation of projects important for both parties," Mitov told Poposki, according to the Foreign Ministry statement. The two foreign ministers agreed on the need to strengthen cross-border co-operation and the construction of Corridor 8 with European funds.
Among the topics discussed was the planned bilateral treaty on good neighbourly relations, co-operation and friendship, the signing of which is in the interest of both parties, the ministry statement said.
The two ministers confirmed plans for the continuation of talks between officials on the topic. The next meeting of the working groups of the Ministry of Foreign Affairs of Bulgaria and the Republic of Macedonia in relation to negotiations on the treaty will be held soon in Sofia. Also discussed was the possibility of organizing a business forum between the two countries.
The two foreign ministers discussed the current situation with migration and emphasised the need for international co-operation to tackle the crisis.
Mitov focused on the idea of creating security zones for refugees in Syria, for which international agreement is required.
Poposki expressed strong concern over the wave of migration to the region and the huge refugee stream running through the country. The foreign ministers of the two neighbouring countries discussed the problem of human trafficking and agreed on the need to increase penalties, the Bulgarian Foreign Ministry said.