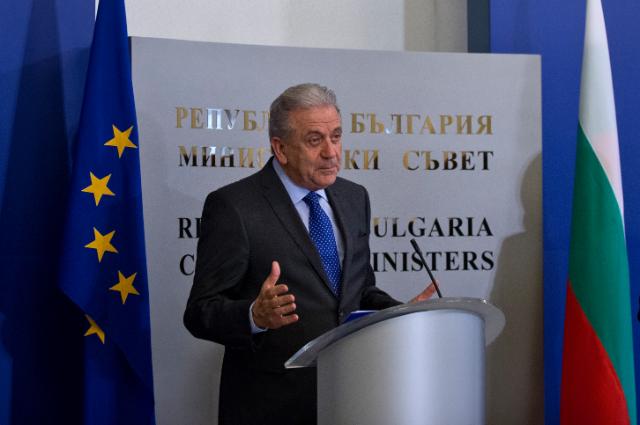 Sofia, February 11, 2016/Independent Balkan News Agency
By Clive Leviev-Sawyer of The Sofia Globe
Dimitris Avramopoulos, European Commissioner for Migration and Home Affairs, said during a February 11 visit to Bulgaria that he would inform his colleagues at the European Commission about the blockades at the Greek border.
The blockades by Greek farmers protesting against that country's planned tax and pension reforms have led to daily disruptions of traffic, mainly obstructing the passage of goods lorries, at various Greek-Bulgarian border crossings for more than a fortnight.
Avramopoulos, himself a Greek national, said that everyone in Europe was losing because of the situation and he hoped that eventually common sense would prevail.
Speaking at a briefing with Roumyana Buchvarova, Bulgaria's Deputy Prime Minister and Interior Minister, Avramopoulos praised Bulgaria for guarding the external borders of the EU well and for respecting the human rights of migrants.
"Bulgaria is a strategic crossroads. You bear responsibility for the protection of the external borders of the European Union. We need to support Bulgaria in this difficult mission. Bulgaria is the pillar that supports the foundations of Europe," he said.
Avramopoulos said that currently, flows of refugees into Bulgaria were limited. "We know, however, that migration routes may change," he said.
He welcomed Bulgaria's proactive stance in drafting a plan for preparedness should there be an increase in migration pressure towards Bulgaria and the rest of Europe.
To support Bulgaria, 91 million euro had been made available through EC 2014/20 funding, and the Commission was working closely with the countries of the Western Balkans and Turkey to better manage the situation, Avramopoulos said.
Migration flow management goes hand in hand with the fight against organised crime, he said.
Buchvarova said that Bulgaria did not intend to change the way it controlled its borders, and added that Bulgarian border control was perhaps the most strictly implemented of any European country.
What was more, Bulgaria did not just exercise control over those who were entering but also conducted additional interviews to establish the identities of those who entered the country.
"Of course, we fail to deal one hundred per cent with the whole flow, so our other efforts are aimed at curbing illegal migrants," Buchvarova said. The country managed to do so quite effectively, she said.
Buchvarova said that Bulgaria advocated joint efforts to work for common solutions in solving the migrant crisis, emphasising that regional solutions are not the right decision for Europe. Buchvarova.
"We carry out a hundred per cent control of our borders with Turkey and Greece, but the border with Greece is an internal EU requirement and that is quite different," she said.