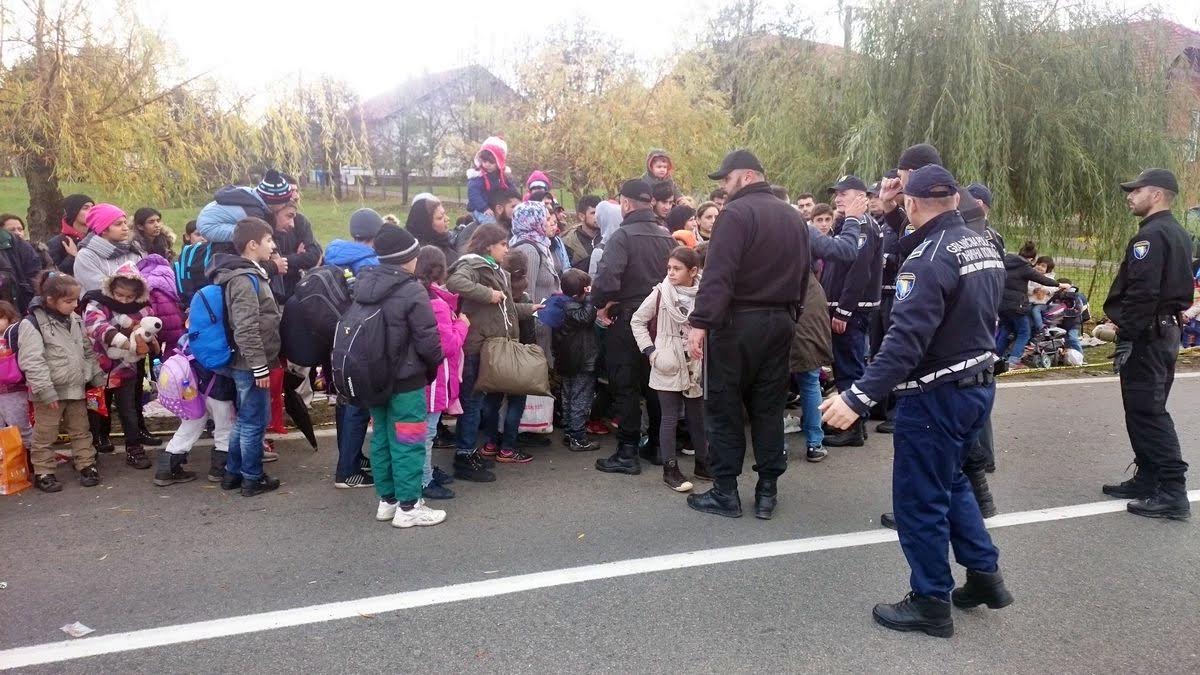 Twenty-four hours after citizens of Bihać in Western BiH, near the border with Croatia, held a protest to underline the ongoing insecurity they feel due to the large number of migrants in the area, hundreds of migrants have left the housing facilities situated in the nearby town of Velika Kladuša in an attempt to get closer to the border with Croatia (near Bihać) and cross it.
Among them are entire families with small children.
BiH Border Police have prevented them from getting to the Maljevac border crossing. Some of them went to another one called Izačić, with police officers blocking their way there too. On the other side of the border, Croatian police are on high alert and in very close co-operation with their BiH colleagues.
Who said what
Due to a "false alarm" which at the same time has done its part as a very bad "joke-rumour" spread by migrants themselves, that said they could easily cross into Europe via Bosnia and Serbia to Croatia, hundreds of them "followed the tip", left their shelters and got to the border.
At Bajakovo and Maljevac border crossings on the Bosnian side (bordering Croatia) is where there is migrant concentration at the moment. Although many were convinced to return to their housing facilities, nearly 400 remain in Maljevac, not far from Velika Kladuša.
However, others spent last night outside under the sky probably with the erroneous belief that at some point police  would allow them to cross the border. Temperatures are already low in the region so it was quite cold. But, even under the tense atmosphere between them and locals, residents of nearby villages did provide them with food and blankets.
"Conditions at the hotel in Velika Kladuša were not so bad but we just want to continue the trip. The winter is coming and most of us do not want to wait for spring to come and then try to cross into the EU", one of the immigrants told local press.
What is happening now is very hard  he added and children are in bad shape. The man urged people who can help them to do so. Furthermore he appealed to police to resolve the problem as soon as possible.
According to current, yet unofficial data, there are more than 10 000 illegal migrants who are in the wider region of Western BiH waiting to cross into central and northern Europe. Only a few of them have IDs.
On Tuesday morning, a large group of them made yet another effort to reach the Izačić Border Crossing, but police stopped them about 200 metres before their actual destination. Migrant children were facing police officers shouting "Hrvatska! Hrvatska!" ("Croatia! Croatia!") and "We do not want to stay in migrant centres".
What is next?
Bosnians are well aware of the situation and are convinced it will only get worse.
The upcoming winter is a number one challenge migrants will need to deal with. However, state authorities were preoccupied with the latest general polls in the country so they did nothing relevant to ease things at that "front". To name a few of the possible spots that could have been prepared to house people, at least in order to avoid hazardous weather conditions, the Ušivak military barracks near Sarajevo, the migrant centre in Salakovac, near Mostar as well as similar facilities of Cazin and Velika Kladuša in the far west of the country, near Bihać either are of limited capacity or unready to host migrants in need of shelter.
The year 2018
It is estimated that in 2018 only, over 15 000 illegal migrants entered Bosnia and Herzegovina and about 13 000 of them were stopped before setting foot in BiH. Most of them claim they want to apply for asylum in BiH, though it is a usual white lie so that they are not sent back to Serbia or Montenegro.
This is how the story goes once they enter BiH: The ones claiming to be "asylum seekers" will be transferred to a migration centre in however, at the end, only a minority will actually apply for asylum in one of the poorest countries in Europe.
The Bosnian entities and how the burden… is shared
Unfortunately, only Federation BiH, one of the two entities in BiH,  has come face to face with the problem since the other entity, Republika Srpska has no such issues at all.
At the very beginning of the crisis, the RS president, Milorad Dodik, had said he would not allow the formation of migrants centres and if illegal migrants were to be found there they would be automatically driven to the appropriate facilities in Federation BiH. In fact, the entire borderline with Serbia and Montenegro lies on the RS territory so, police are very busy delivering them to the Salakovac centre.
In addition, the increased influx of migrants triggered human trafficking issues. As a result, several groups of locals have been already arrested for driving migrants from the east to the west of the country for a very dear price.
It is obvious that BiH is not in a position to handle this hot potato on its own. Help from abroad and a consistent, co-ordinated response is necessary.
At the moment, the largest international organisation to offer a helping hand is the International Organization for Migration (IOM). Still, their resources too are limited…. / IBNA