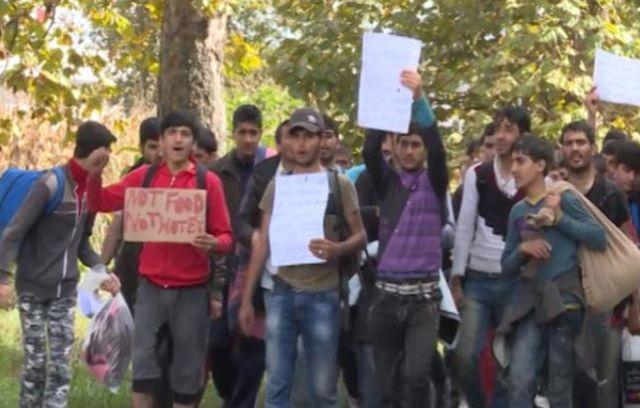 Belgrade, October 4, 2016/Independent Balkan News Agency
By Milos Mitrovic
The group of 200 migrants held protest in Belgrade today demanding "open borders" and than started march toward Hungarian border, route of some 200 kilometers. This morning the protesters have insulted other migrants who did not want to join them as well as Info park volunteers which assist them in the park near Belgrade central bus station, where migrants/refugees accommodate since last year.
An Info park representative said that protest was incited by "anarchists", rather than migrants. Some media claimed that group "No borders" was behind it.
"We will see what is going to be when we reach the border", a migrant from Afghanistan told Tanjug news agency. He has spent a month in Serbia, he added.
The protesters on march hold banners with the inscription "Open the borders".
At the helm of the column were "three mysterious girls which say that they are from Switzerland", blic.rs reports. But this website adds that the girls "are just support". "We are here just to support them, and nothing more", they told reporters. Immediately after saying that, the girls were surrounded by migrants "so nobody could come close to them again". When the march started, some migrants said that they did not know where they would go and "they follow the instructions of three girls from the United Nations".