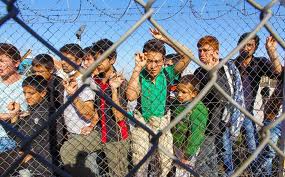 Attica police broke up an organised ring of migrant smugglers, arresting four ring members– three Indian nationals and a local man — and detaining 29 illegal migrants — in a coordinated operation on Saturday, while four more persons were wanted.
Police said that four migrant smugglers were arrested and four more, two Greeks and two foreign nationals were wanted, while 29 illegal migrants — 8 from India, 8 from Bangladesh, 6 Syrians, 3 Pakistanis, two Sri Lankan nationals, and one each from Lebanon and Afghanistan — were detained.
After several days of investigation, police said they located a house in the Tavros district of Athens that was used by the ring to house illegal immigrants for transfer to other EU countries. They said two private buses boarded illegal immigrants from Tavros and other parts of Attica prefecture, for transport to Italy, but were intercepted by policy at the Elefsina toll station.
The illegal immigrants had paid 2,000-4,000 euros each to the smugglers.