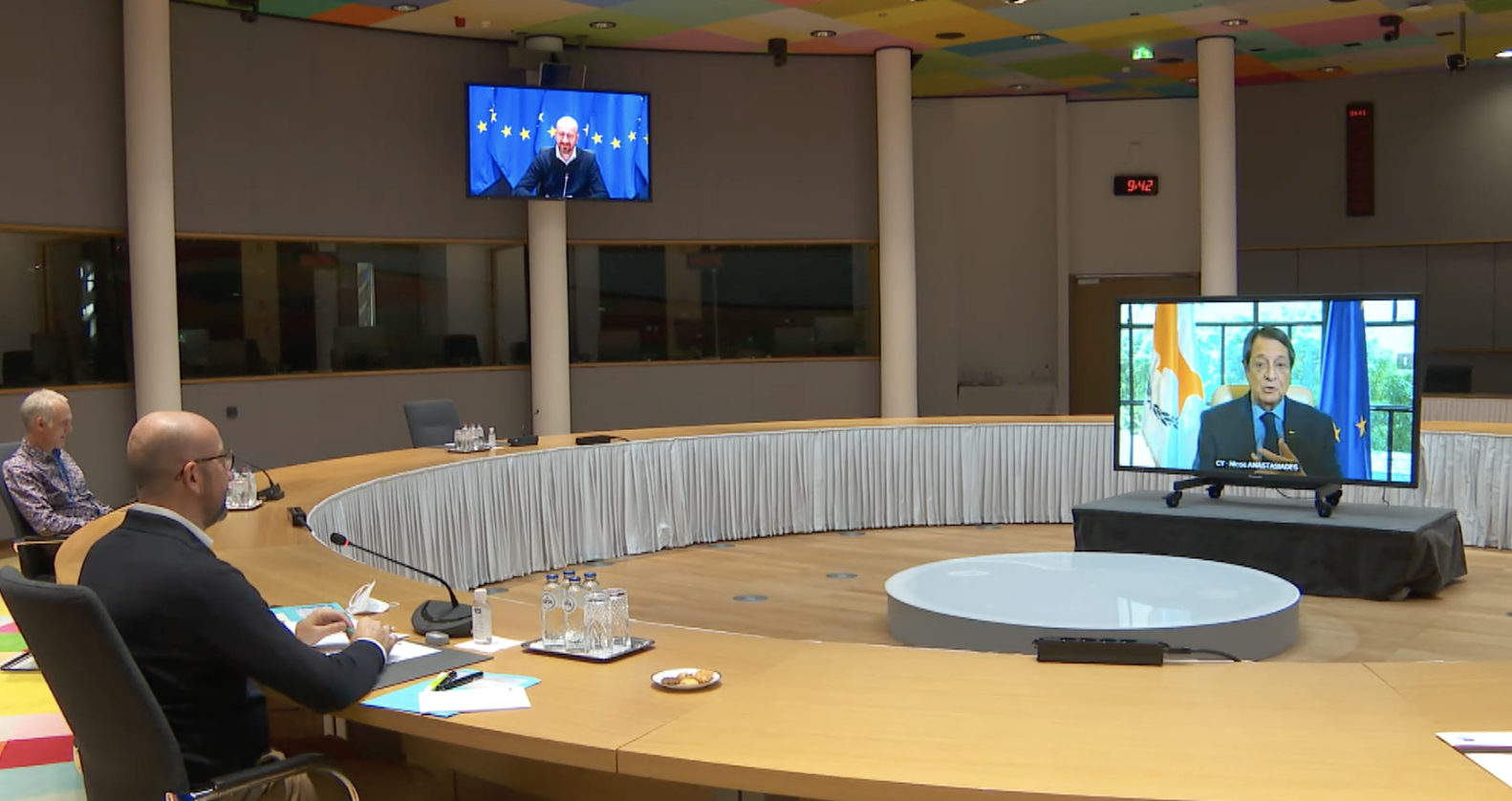 European Council President Charles Michel contacted today in separate video conferences Cypriot President Nicos Anastasiades and Greek Prime Minister Kyriakos Mitsotakis.
The forthcoming visit of the President of the European Council and the President of the European Commission Ursula von der Leyen to Turkey was discussed during the teleconferences.
European Council President Charles Michel and European Commission President Ursula von der Leyen will visit Turkey on April 6th and meet with President Recep Tayyip Erdogan, according to a Brussels statement.
The visit will be carried out in the context of efforts to boost dialogue between Ankara and Brussels, following a tense period last year over the Eastern Mediterranean, according to Michel's spokesman Barent Leyts.
A written statement by Government Spokesman Kyriakos Kousios states the following:
"In view of the forthcoming visit of the Presidents of the European Council and the European Commission to Ankara, the President of the Republic Mr. Nicos Anastasiades had a teleconference this morning with the President of the European Council, Mr. Charles Michel.
During the teleconference, President Anastasiades reiterated his determination to engage constructively at the informal Geneva Conference on 27-29 April, calling on President Michel to highlight the urgent need for the Turkish side to share our political will, in order to create the necessary conditions for the resumption of substantive talks.
He also referred to the importance of EU presence at the Geneva Conference, but also to the substantive negotiations once they resume, in order to strengthen the prospects for resolving the Cyprus issue and reaching a functioning, lasting solution.
President Anastasiades also reiterated that the apparent de-escalation of tensions on behalf of Turkey in the Cypriot EEZ should have duration and consistency while emphasizing that, in violation of the relevant UN Security Council resolutions, threats regarding the implementation of illegal Turkish plans in the Varosha region continue, with the informal meeting in Geneva just around the corner.
Finally, on the issue of migration, the President of the Republic pointed out the particularly difficult situation that has developed in Cyprus, which for years continues to occupy the first place among EU Member States in terms of population in relation to asylum seekers and beneficiaries of international protection. This is a problem that is exacerbated by Turkey's continued refusal to meet its obligations to all Member States."
The Greek side issued a simple statement noting: Prime Minister Kyriakos Mitsotakis had an earlier teleconference with European Council President Charles Michel ahead of Michel's visits to Libya and Turkey next week , as well as the Prime Minister's visit to Libya on Tuesday 6 April. /ibna