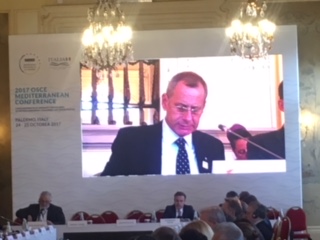 The Permanent Secretary of the Ministry of Foreign Affairs, Ambassador Alexandros N. Zenon, participated today in the opening of the Mediterranean Conference of the Organization for Security and Cooperation in Europe (OSCE), taking place in Palermo, Sicily, on 24-25 October, under the title "Large Movements of Migrants and Refugees in the Mediterranean: challenges and opportunities".
The Conference is hosted by Italy, as the incoming Presidency of the OSCE for 2018. The conference is presided over by Italian Minister for Foreign Affairs, Angelino Alfano. Ministers and Vice Ministers of the 58 OSCE participating states have joined the workings of the Conference, as well as Ministers of the 6 OSCE Mediterranean partners (Israel, Algeria, Egypt, Morocco, Tunisia and Jordan).
Ambassador Zenon intervened in the political segment of the Conference, where he underlined the responsibility of the participating states of the OSCE to show the necessary solidarity to the countries mostly affected by the migration /refugee crisis in the Mediterranean, and also the need to address the root causes of this crisis.
The FM Permanent Secretary highlighted the policies of the Republic of Cyprus in dealing with the Syrian refugee crisis, whereby Cyprus is providing financial assistance to Lebanon and Jordan to mitigate the effects of the crisis, while at the same time, providing scholarships to Syrian refugees who wish to undertake graduate studies in academic institutions in Cyprus. Furthermore, Ambassador Zenon spoke about Cyprus' trilateral arrangements with countries in its neighborhood, enhancing security cooperation, cooperation in the field of natural disasters, as well development and economic cooperation./IBNA
Photo: pio.gov.cy