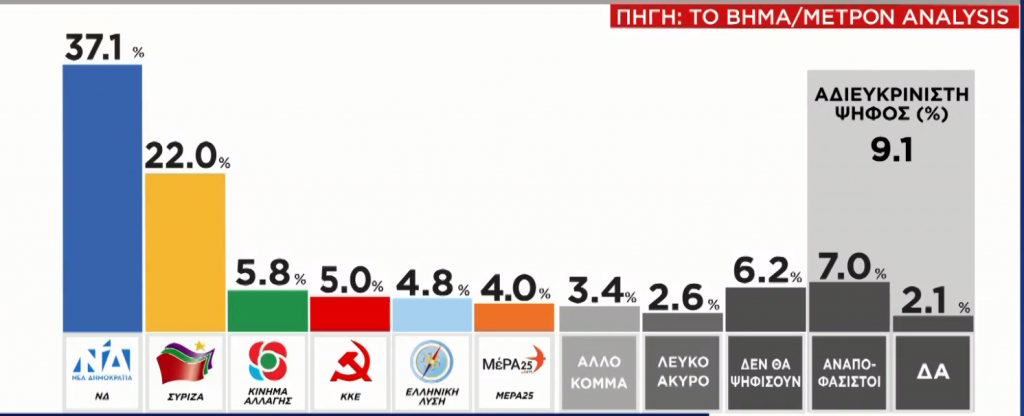 An opinion poll by Metron Analysis got To Vima on Sunday put ruling New Democracy on a 37.1%, with main opposition SYRIZA on 22%. The Movement for Change was third on 5.8%, followed by the Communist Party on 5%, Greek Solution on 4.8% and DiEM25 on 4%.
The Prime Minister secured a 65% approval rating for the way he is carrying out his duties. Most notably, Kyriacos Mitsotakis appears to appeal to centrist voters (71%) and center-left voters (52%), while those on the left of the political spectrum also see him in a positive light by 31%. Moreover, he remains the most popular political party leader (66%) on the whole.
Compared to SYRIZA party leader Alexis Tsipras, Mitsotakis is seen as most suited for the role of Prime Minister by 48%, with just 18% opting for the former leftist PM. However, Tsipras slightly improved his rates, as negative views of him dropped to 65% (from 676% in December) and his popularity rose to 41% (from 36% in the previous poll).
Concern over government policy appears to focus on three areas: tackling crime (positive views about the government's work in this area dropped to 45%, from 52% previously); education (positive views down to 38%, from 49% in the last survey); and management of the refugee/migration crisis (positive views at a lowly 16%, from 25% previously).
Additionally, the majority of respondents (61%) said they were worried a war with neighboring Turkey could break out, as tensions in the eastern Mediterranean continue to rise.
In an interview last week, SYRIZA leader Alexis Tsipras argued that the first signs have emerged that the conservative government's popularity amongst citizens is starting to wane, while analysts also point out that the "honeymoon" period since last July's election is nearing its end, as foreign policy issues begin to weigh on the Mitsotakis administration.
Nevertheless, some observers point out that a 15.1 point lead over the main opposition party is a sign of huge approval and quite unprecedented six months after an election. The same sources argue that such high approval rates may tempt Kyriacos Mitsotakis to call a "twin" snap election, in order to put an end to the simple proportionality system. Government officials, including the PM, have rejected such scenarios./ibna