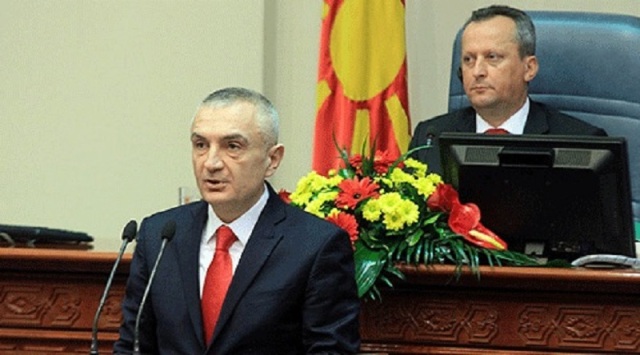 Skopje, January 20, 2015/Independent Balkan News Agency
By Naser Pajaziti
Speaker of the parliament of Albania, Ilir Meta delivered a speech today in the parliament of the former Yugoslav Republic of Macedonia, where he offered several messages of cooperation and against the change of borders.
Meta declared that relations between Albania and FYR Macedonia are crucial and strategic for the entire region.
"All political forces in Tirana and Skopje have the responsibility of enhancing relations and sharing joint engagements", said Meta.
Mr. Meta also talked about developments in the region, stressing that he's against border changes. "Albanian and Macedonia, Albanians and Macedonians, along with Greeks, Serbs, Montenegrins, Bosnians and Croatians, have been living in a joint geographical space. They must share their joint interests and use all instruments for multilateral cooperation for a common objective. We don't believe in changing borders in the Balkan, but we believe on removing borders, like the European Union did, which we all aspire to join", said the speaker of the Albanian parliament, Ilir Meta.
Meta underlined that today, it's necessary to develop intelligent and pragmatic policies, by exploiting linking corridors for economic development and well-being.
"I'm convinced that we're ahead of a historical moment, when we should talk about joint projects of mutual interest, in energy, infrastructure, industry, environment, tourism and health", said Meta.
Among others, Meta said that he has arrived in Skopje to offer sincere messages of friendship and confirm that Albania, as a neighboring country and as a NATO member country, supports FYROM in its Euro Atlantic integration path.
The Albanian parliamentary speaker also stopped on the need to implement the Ohrid Agreement, stressing that this agreement strengthens and brings people closer to each other and the EU.
Today, Mr. Meta was received by his Macedonian counterpart, Trajko Veljanovski, while in the afternoon, he will hold meetings with PM Nikola Gruevski and president George Ivanov.
Meta will continue his visit tomorrow where he will meet with heads of Albanian and Macedonian political parties. /ibna/