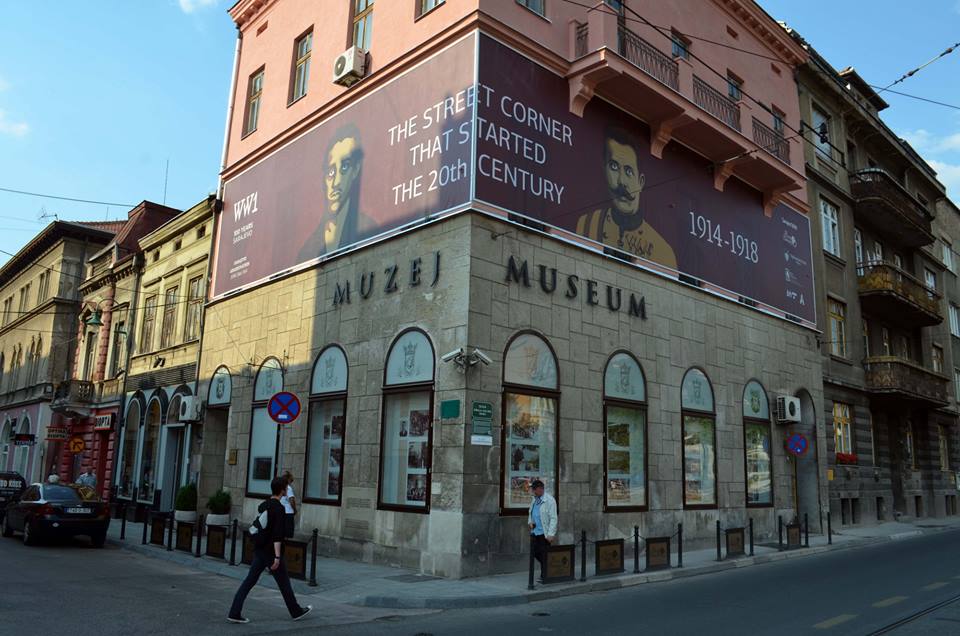 Zenon Marković – Sarajevo
Displayed on the façades of Sarajevo Museum 1878 – 1918 and the prestigious Leopold Museum in Vienna are messages of solidarity to mark the 100 years of Sarajevo assassination and the beginning of WWI containing portraits of Gavrilo Princip and the Austrian Prince Franz Ferdinand in Sarajevo and a message to tribute the Sarajevo Olympics 1984 in Vienna.
By exhibiting these tributes to these monumental events the two capitals are sending a message of peace and tolerance, and keeping the "lesson" of a century of two world wars and the war in B&H alive and making a notion that it shouldn't be ever repeated.
The banner on the façade of the Sarajevo Museum containing the portraits of Gavrilo Princip and Franz Ferdinand is a result of the cooperation between the Museum and the Academy of Fine Arts in Sarajevo. On the façade of the Vienna Leopold Museum it says "Sarajevo '84" on a banner designed by artist Marko Lulić as part of the exhibition titled "And yet there was Art! Austria 1914-1918", dealing with the state and the circumstances surrounding art in the period of First World War in Austria.
While at first glance there is no apparent relation between these two events, they are actually connected by way of completing the circle that begins with the assassination in Sarajevo that triggered the war, which divided Europe's nations into allies and opponents and then seven decades later relating back again, during the Winter Olympics in 1984 when sport was the medium that connected those same nations in spirit.
Within the exhibition on the occasion of 100th anniversary of assassination in Sarajevo, works of significant artists from the period of World War I have been displayed in the Leopold Museum, such as Egon Schiele, Oskar Kokoschka or Albin Egger-Lienz as well as works of contemporary artists from former enemy states such as Italy, Russia and Serbia, but also Austrian artists.
Situated in a famous Museums Quartier, Leopold Museum shows historical Sarajevo on its façade to many tourists.
The exhibition will be opened until September 2014.