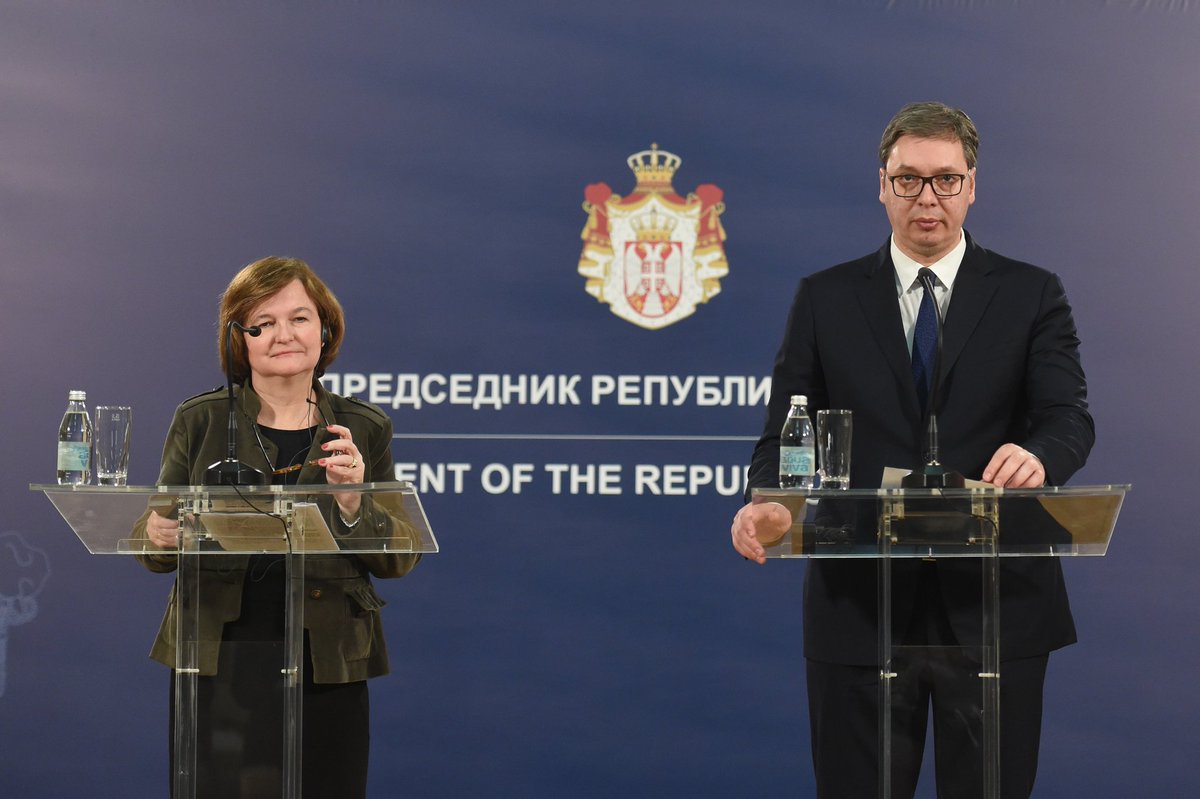 The position of France according to which the situation within the European Union does not allow its enlargement in due time is appreciated by Serbia for its sincerity; at the same time, the signal from Berlin that Germany would remain a close ally of Pristina regardless of taxes it has imposed on Serbian goods, represents a disappointment – at least as president Aleksandar Vucic reportedly sees it.
Nathalie Loiseau, the French minister for the European affairs, has said ahead of her visit to Belgrade that the "current situation of the EU does not allow new enlargements under satisfying conditions".
When asked about this comment she has given in the interview with Politika daily, Loiseau said that "France wishes Serbia to succeed in its enterprise, which is access to the EU"; "but France also speaks like a friend, sincerely", she elaborated at the press conference with Vucic on Monday.
"This sincerity makes us say that at the moment when the exit of Great Britain is approaching", she added, EU must face its many challenges, Loiseau went on.
As she said, the negotiations between Serbia and EU go on "while we are tiding our house". "We have to analyze the state of both our common ambitions and the path we have to walk".
Vucic thanked Loiseau for her "sincerity", adding that "this was all that Serbia had already known".
France supports Serbia's "European path without any doubts", according to Loiseau.
"We appreciate the reforms Aleksandar Vucic has conducted in order to contribute to the stability of the whole Western Balkans", she concluded stressing that Serbia should implement further changes.
Considering the dialogue between Belgrade and Pristina, the French minister stated that Paris would "always support the path towards the common solution, acceptable for both sides". She said that France strives for the cancelation of the tariffs introduced by Pristina, calling them counterproductive.
"Big dissapointment"
As president Vucic said, the statement which German Foreign Minister Heiko Maas has given to Stuttgarter Nachrichten, that Berlin would continue to support Pristina regardless of the taxes Kosovo has introduced represents a "big disappointment".
He announced that government would discuss the statement alongside with "all the other messages Serbia has recently received". "Germany should not support the ban of the free movement of goods, services and people", Vucic concluded./ΙΒΝΑ