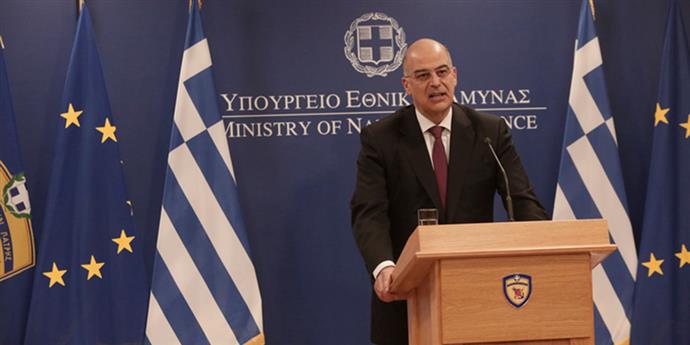 By Spiros Sideris – Athens
"Greece holds in one hand an olive branch and seeks the peaceful coexistence with all peoples, especially the peoples of the region", stated Nikos Dendias in his first statements on the occasion of the ceremony to take up his new duties.
He noted, however, that "at the same time we are sending a message that Greece except from an olive branch, also maintains a sword. A swords of justice, but a sword nonetheless. With national unity we will not let anyone to threaten our territorial integrity or offend Hellenism and its timeless values​​".
Dendias stressed that he assumes the Defence Ministry "at an extremely critical and sensitive juncture. The recent events are known to all. It is obvious that the security environment in our region is more fragile than ever, that the dangers are many and often unpredictable. At this critical juncture, Greece intends to remain an oasis of stability in the region and continue to uphold our cultural values ​​and principles of democracy".
He also observed that despite the problems caused by the six-year crisis, the Armed Forces, through the efforts of the government and its predecessor, as well as the rest of the civil and natural leadership of the Troops and the high morale of the staff, maintains its combat effectiveness at a high level.
"I understand", Dendias concluded "the financial sacrifices of the staff, but the government and me personally have expressed the desire to reward these sacrifices as best we can. We will all work together to meet our national tasks".