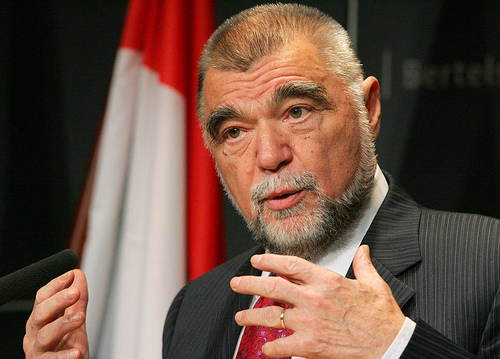 By Marija Avramovic – Zagreb
At today's inauguration of Ukraine's new president, Petro Poroshenko, Croatia was represented by the former President and envoy  of the current President, Stjepan Mesic.
"Poroshenko has sent encouraging messages by saying he is open to negotiations and that he wants to enhance relations with the European Union", Mesic said in a phone interview for Croatian News Agency (HINA).
Mesic rejected all Croatian media speculation that he could act as a mediator in the negotiations between Ukraine and Russia and dismisses comparisons of the Ukrainian crisis with the events in the former Yugoslavia in the 90s.
"The dispute is completely different than it was with us," he underlined. Mesic reminded that Ukraine was formally a member of the EU and that overall, it is a matter of completely different elements.
It is known that Mesic, during his presidential term, had good relations with Ukraine. But it is also well known that he was good with the Russian President Vladimir Putin, and all this is probably the reason why Josipovic chose Mesic to represent Croatia at the inauguration.
Mesic said that in Kiev, among others, he met with Austrian President Heinz Fischer, Slovenian president Borut Pahor, Albanian President, Bujar Nishanijem and with French Foreign Minister, Laurent Fabius.