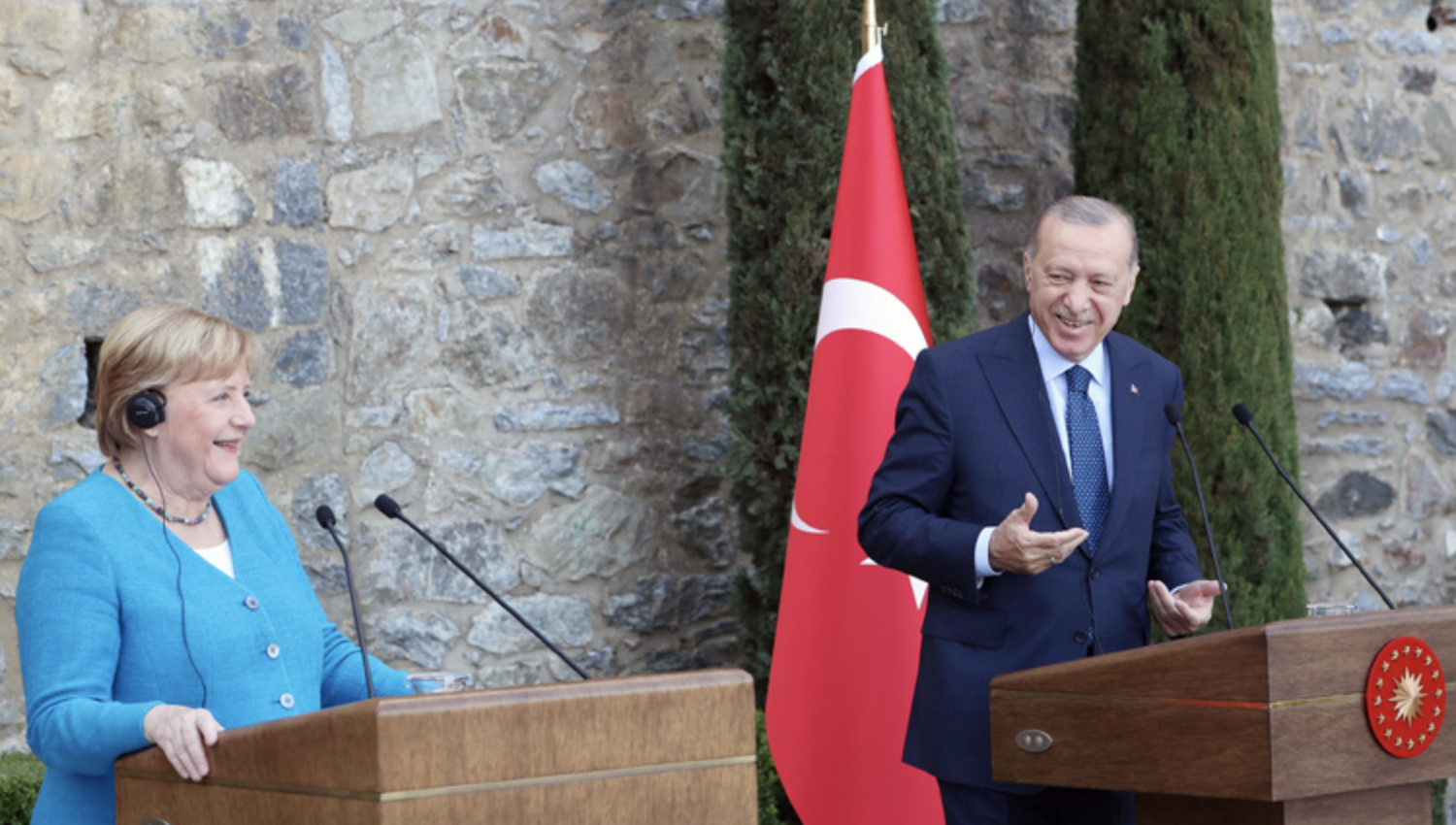 German Chancellor Angela Merkel was received by Turkish President Recep Tayyip Erdogan at the Huber Palace on Saturday as part of her farewell visit to Turkey.
Speaking at the joint press conference, Erdogan said that "the Turkish community in Germany is the common wealth and occupies an important place in the social aspect of the relations between the two countries.
Although, as he noted, racism, Islamophobia, xenophobia and discrimination remain the main problem for the Turkish community in Europe.
Erdogan expressed hope that Merkel would continue to contribute to the friendship between the two nations after she leaves office, adding that the successful work carried out with the outgoing German Chancellor would be continued in the same way by the new German government.
Referring to the refugee issue, Erdogan said that Turkey is the hostel for refugees and they cannot turn away refugees like Greece does. The Turkish president noted that Turkey will continue to host and added that they have built 60 thousand houses so far and the goal is to build 100 thousand houses for refugees.
For her part, Merkel said that the EU's support to Turkey on irregular migration will continue.
"We want to prevent human trafficking. It is necessary … for the EU to support Turkey in this respect," she said.
Merkel stressed that Turkey and Germany have always had common interests and added that the next federal government would see it that way.
"In Turkey a lot has developed with Mr Erdogan. We can see this when we look at Istanbul," Merkel noted.
She went on to stress that "as a NATO ally, Turkey is an important partner for us. We always have common interests. The federal government will continue with this perspective after me. Our peace and trust are intertwined. There is freedom of religion in Germany. We have a very firm stance against Islamophobia and racism. We wanted to prevent them from the beginning. We have experienced sad events with the problems of anti-Semitism and Islamophobia. That is why all financial and moral resources are being mobilised," concluded the German Chancellor.
The two leaders discussed issues on their agendas, but mainly bilateral relations in today's meetings, Erdogan said.
After 16 years in power, Merkel is preparing to step down from active politics later this year, but will remain in her post until a new coalition government is formed./ibna