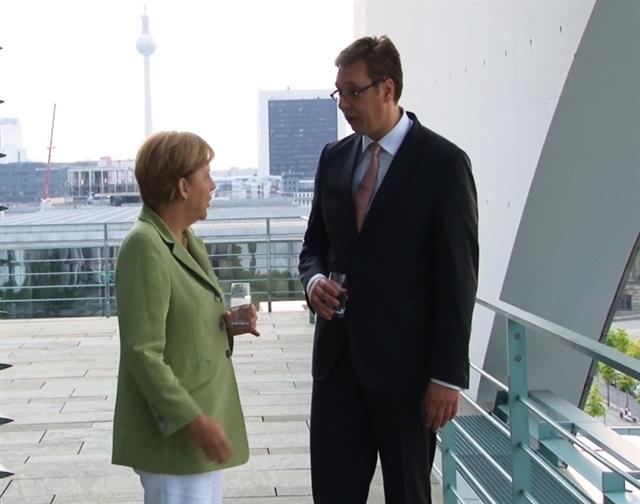 Belgrade, May 21, 2015/ Independent Balkan News Agency
By Milos Mitrovic
Germany's Chancellor Angela Merkel will visit Serbia soon, Prime Minister Alekandar Vucic announced today. Vucic also underlined that the agenda for his official visit to United States next month is being prepared. In the US Vucic will meet Vice-President Joe Biden; the trip is regarded as the part of Vucic's "diplomatic offensive" in order to accelerate Serbia-EU accession negotiations.
The Premier did not specify when will Merkel visit Belgrade, Tanjug reported. Germany leads in EU block's setting preconditions for the opening of the first chapters in accession talks with Serbia; in this regard, Berlin insists on the full implementation of the agreed normalization of the relations between Belgrade and Pristina.
When asked whether he will visit Russia, Vucic answered positively adding, however, he will not do it "yet". Serbian "balanced foreign policy" between Russia and West is under EU's scrutiny amid Ukraine crisis.
Considering his visit to the US, Vucic said that it is scheduled to take six days. Nonetheless, he added he would probably come back earlier because he has "a lot to do in Serbia". PM says that Serbia strives for the "best possible" relations with America.
"This is our interest, just like it is our interest to have the best possible relations with the Russian Federation", Premier explained. But he added that "work that should be done in Serbia is the most important".
At the same time, he accused former Democratic Party led government for making "criminal treaty, the worst possible treaty on Stabilization and Association Association" with the EU. Vucic complained that his cabinet "is forced" to apply the agreement while "opposition criticizes all the time".
"Our predecessors did not leave anything, not even the basement, because they have loaded it with garbage. For this reasons, it is far more important to me what is going on in the country, rather than abroad", Vucic concluded.
Photo: Angela Merkel and Aleksandar Vucic in Berlin, during Serbian PM's visit in 2014