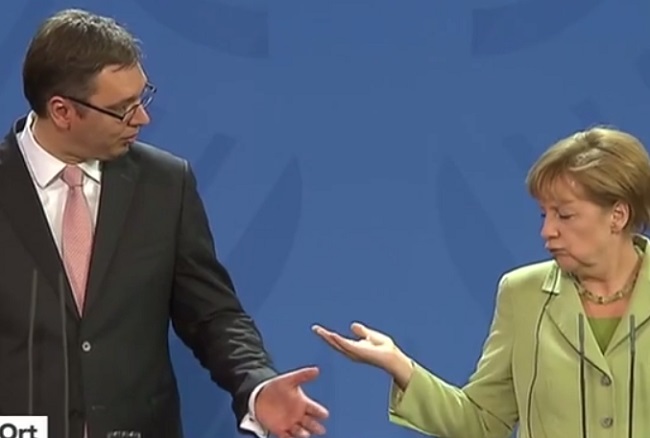 Belgrade, September 7, 2015/ Independent Balkan News Agency
By Milos Mitrovic
Although not a European Union member state, Serbia is especially affected by the refugees crisis, German Chancellor Angela Merkel said today.
The refugees arrived to Serbia from an EU member and after that they again enter the EU, Merkel stressed alluding to Greece and Hungary. The Germnan Chancellor with Serbian Prime Minister Aleksandar Vucic in Berlin. While the Serbian media stress that this was the third encounter of Merkel with Vucic this summer, putting Serbian EU perspective in headlines, the refugees crisis was obviously the main purpose of today's meeting.
Taking into account Serbia's problems, there's need of "friendly discussion", with Vucic on mutual action, Merkel said at the media conference, according to Radio-Television of Serbia (RTS).
Considering asylum-seekers from the Western Balkans, the German Chancellor underlined that Serbia, as a candidate for EU membership, represents a so called safe country and that, accordingly, its citizens cannot claim asylum. At the same time, Berlin would do its best to "offer a perspective" to young people from Serbia, Merkel added probably pointing to high educated persons who may look for job in Germany.
Vucic said he supports Merkel's plan to reduce social support ("pocket money") for asylum-seekers from the region. He announced legislative changes that would cut social assistance to "fake asylum-seekers". The move would "dramatically" reduce asylum claims from Serbia, Vucic explained.
He said that 70 percent of the refugees registered in Serbia were from Syria and Iraq, while those from Afghanistan and Pakistan were "economic refugees". Vucic emphasised that Serbia waits for the EU's "final response" to the crisis.
"From our perspective, this is not Germany's problem, nor problem of any other individual country or EU, it's a problem of the whole Europe", Vucic said alluding to a remark of Hungarian Prime Minister Victor Orban last week.
Namely, Orban said that the refugees were "Germany's problem" due to their wish to claim asylum in Germany and Berlin's insistence on quotas for the "just distribution" of refugees within the EU.
"We are ready to cooperate with all EU members and to take our part of the responsibility", Vucic concluded promising Serbia's "serious assistance" to the EU.
Later today Vucic will have a meeting in Bundestag's foreign committee and give a lecture in Konrad Adenauer Foundation's European Forum.
Considering the accession negotiations between Serbia and EU, the PM said he hopes that the first chapters would be opened by the end of the year. "We did tough tasks, and we will do the same in the future", Vucic concluded.