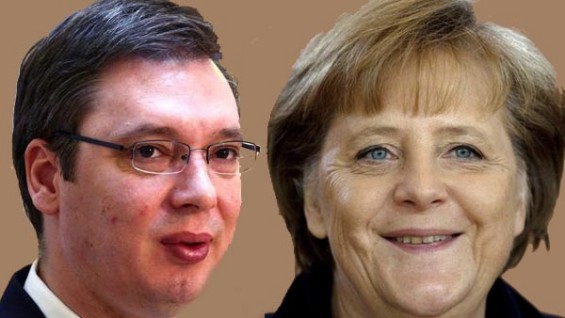 By Milos Mitrovic – Belgrade
Serbian prime minister Aleksandar Vucic announced today that he has accepted Germany chancellor Angela Merkel's invitation to visit Berlin on June 11. Merkel promised Vucic that Germany would provide the relief for Serbia, hit with floods.
The last Serbian premier who has officially visited Berlin was Zoran Djindjic, assassinated in 2003. "In any case, this (Merkel's invitation) is great honor and obligation, therefore I appeal to all of you to prepare everything possible from your respective sectors", Vucic told his ministers at today's meeting.
The government has lifted emergency situation in Serbia that was declared last week amid devastating floods resulting with 33 deaths and damage that may reach one billion EUR. However, emergency situation remains in power in 20 municipalities affected with floods, including the most seriously devastated Obrenovac.
Vucic also announced he would visit Wien in the first days of June. The visit was supposed to be organized earlier, but it had been postponed due to floods.
After his telephone conversation with Merkel earlier today, Vucic said that German chancellor promised Berlin would not leave Serbia without its relief and support. Merkel expressed Vucic her condolences due to disaster in Serbia.
"The most important is that Merkel said she will not leave Serbia alone, without relief and support and I have expressed Serbian gratitude to Germany", Vucic said adding he has asking from Merkel "the most needed help" for the country.
Deutsche Bank in Serbia has decided to give up from commission fees on special accounts for the relief which is a signal for German support, Vucic explained.
The government ministers decided unanimously to end the emergency situation. Vucic's cabinet also adopted the decision for preparation of the special report for the parliament and citizens about the measures taken during the floods.
Predrag Maric head of the Emergency Situations Sector, told Pink Television that over 30,000 people have been evacuated in the territory of Serbia, of whom 25,000 come from Obrenovac.
Serbia could not have been defended from the floods and "God is responsible for what happened", Goran Puzovic, head of state company for water management said in the interview for B92 television.