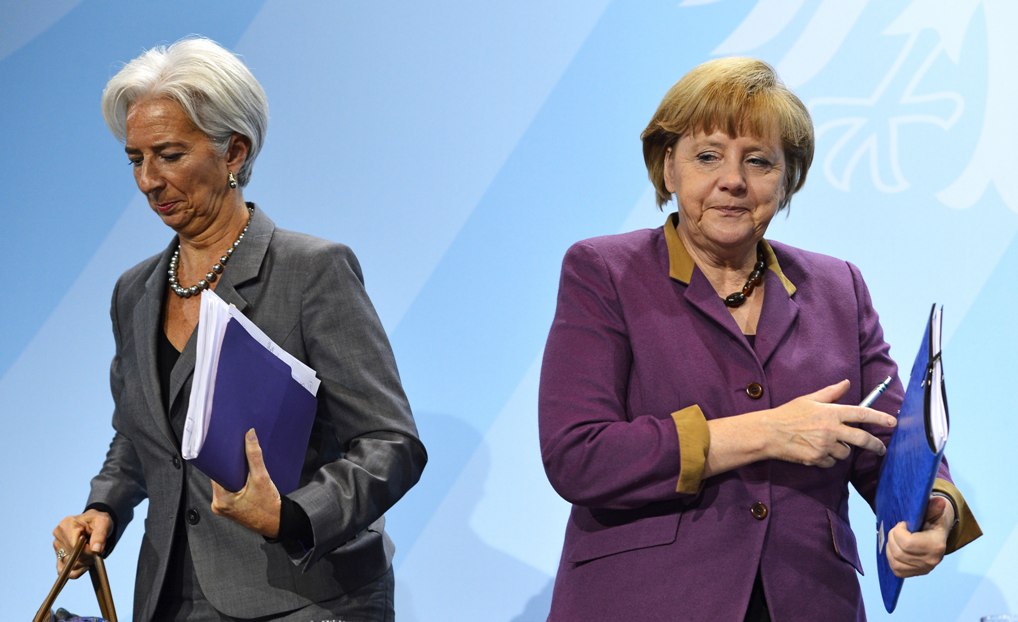 German Chancellor Angela Merkel will meet with the Managing Director of the International Monetary Fund (IMF), Christine Lagarde on Monday, a development which could prove crucial in the ongoing efforts to strike a deal to grant Greece much-needed debt relief.
A Eurogroup meeting scheduled for 21 June is expected to reach an agreement on the scope and form of debt relief that will be extended to Athens, as the country prepares to conclude its bailout program in August 2018.
So far, the IMF has insisted on a deal being reached before the 21 June Eurogroup meeting and pushed for extensive, automatic relief to Greece, in order for the country's debt to become sustainable in the long-term. Several Eurozone states led by Berlin are thought to be keen on ensuring prospective debt relief is tied to strict conditionality – including reform and fiscal targets being met – to ensure the Greek economy doesn't veer off its recovery track.
Angela Merkel's meeting with Christine Lagarde – in the context of the German Chancellor's meetings with the leaders of major international organizations such as the OECD, World Bank, WTO and ILO – has renewed hopes of an agreement being struck, paving the way for the IMF to active a Stand-By Arrangement to join the Greek bailout program.
The Washington-based Fund has agreed in principle to provide 1.6 billion euros to Greece in bailout loans, after the Fund has received assurances from European partners on debt sustainability.
Last week, sources following the Greek debt talks closely said the IMF had "one foot out of the Greek program" already. Citing German government sources, Greek media reported that Berlin officials now believe the IMF will not be joining the Greek program as a lender, but it will assume an advisory role instead.
Greek government sources appear optimistic that a debt relief agreement will be achieved in June, pointing out that if the IMF ultimately opts out, there could be scope to put some of its tough demands for further austerity measures in 2019 and 2020 on ice.
On Friday, the Greek coalition government tabled a draft bill in parliament which included all of the prior actions and reforms demanded by creditors to conclude the fourth and last review of the current bailout program.
The Tsipras administration has accelerated efforts to enact the legislation in order to achieve positive results at a June 21 Eurogroup, namely, debt relief measures and an arrangement for post-bailout economic supervision. Parliament will begin debating the draft bill on Monday, with the legislation being put to a vote on Thursday./IBNA