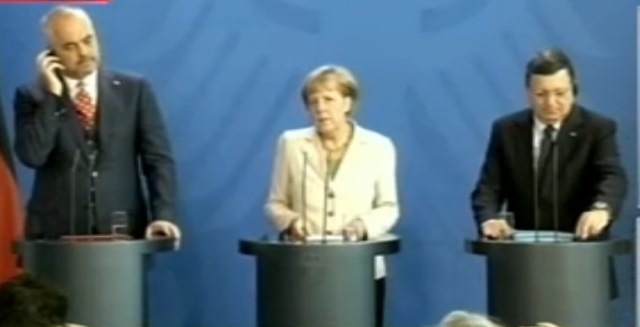 Tirana, August 28, 2014/Independent Balkan News Agency
German chancellor, Angela Merkel has declared in a joint press conference with the prime minister of Albania, Edi Rama and European Commissioner, Jose Manuel Barroso that Germany wants the European integration process of the West Balkan countries to be accelerated.
In his speech, the head of the Albanian government, Edi Rama said that our country would like Europe to see Albania and the other countries of the region as partners and allies.
"We would like for the process of integration to be accelerated. EU candidates have made progress. We want this process to be accelerated, but this depends on the countries. I have heard from Barroso that the European Commission is ready to help these countries. We want to exchange our experiences and hear from the representatives of the governments of Balkan countries as to what are their expectations", said chancellor Merkel.
Earlier, she said that this  is an incentive which is also expected to be held in four years time.
"We are interested and we can say that these countries have seen many developments and they have shown an interest to become part of the EU. We believe that we will also hold this incentive in Austria in four years time", said the German chancellor.
Meanwhile, the head of the European Commissioner, Jose Manuel Barroso said that the joint objective is clear. He said that West Balkan countries must be seen as part of EU.
"I have seen how important is the European aspiration for Albanians. Progress toward the EU is real. The Commission supports the Balkan countries in their path toward the EU, but the key reforms must be carried out by them. This is crucial", said Barroso. /ibna/