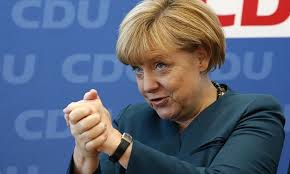 Athens, January 16, 2015/ Independent Balkan News Agency
By Spiros Sideris
The rules of the game after the election is trying to set Chancellor Merkel in an interview in today's edition of the newspaper Frankfurter Allgemeine.
In an excerpt published by the newspaper, Angela Merkel says that she would like Greece to stay in the eurozone, but stresses that "the basis of all European efforts is the principle of solidarity with the same effort and responsibility".
"All my work in relation to the crisis in Europe was and is aimed at strengthening the eurozone as a whole, with all its members, and hence including Greece", says the German Chancellor.
Asked about the possibility of an electoral victory of SYRIZA, Merkel says the principle of solidarity with similar efforts from the other side "will continue to apply for us in our cooperation with each Greek government".