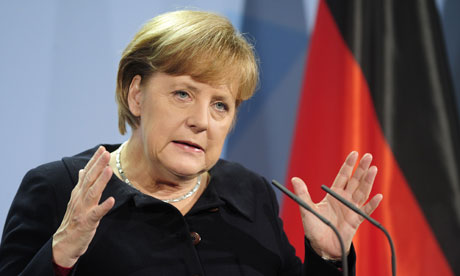 Athens, January 23, 2015/ Independent Balkan News Agency
By Spiros Sideris
Convinced that Greece will continue to show the same sense of responsibility in terms of its obligations, appeared Chancellor of Germany Angela Merkel, speaking from the floor of the World Economic Forum in Davos and emphasised that the European principle "solidarity versus ownership" continues to apply.
"We hear from Greece that the vast majority of Greeks want to keep the country in the euro and the since beginning of the crisis I have always said that everything we do politically aim for Greece to stay in the eurozone", said Merkel, noting, however, that "there should be two things: we must show solidarity and will continue to show solidarity with the readiness to take on the same ownership. I am convinced that Greece will continue to show this sense of responsibility".
In terms of developments after the elections Sunday, Merkel noted that "what will happen after the election is something we will discuss then", but as she said, "the experience of the euro crisis, shows that we always find a European solution, based on these two sides of the coin – solidarity and same responsibility".
Referring to today's decisions of the European Central Bank, the Chancellor stressed that "it should not make us deviate from the fact that as politicians we need to establish the necessary framework and conditions for recovery", and added that the ECB's decisions are taken by absolute independence.
She reiterated, however, that it is necessary "to be more rigorous in how we act and not be tempted to buy time and not do structural reforms" and noted that at this time there is so much liquidity that governments should stay within the limits on deficit a lot easier.
"What will happen when they interest rates start to go up again? Now is the time for one to put ones fiscal situation in order", she said and explained that she does not believe that austerity is the opposite of growth, but that "we need a stable, growth-oriented, fiscal policy, we need investment, we need public investment, but especially an environment that will encourage private investments".