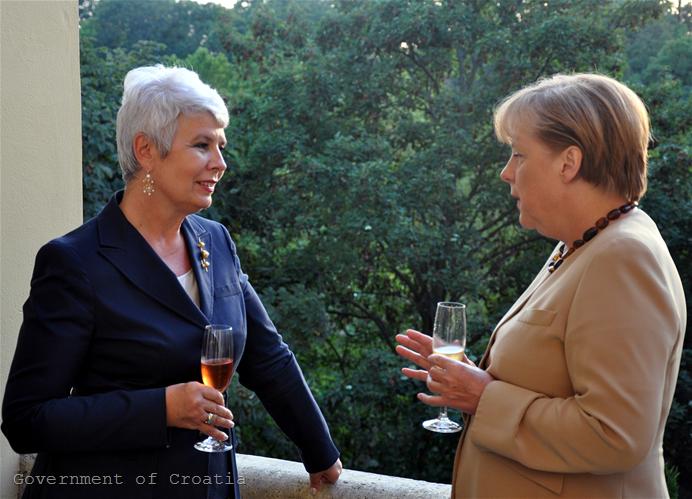 By Natasa Radic – Zagreb
Croatian daily "Novi list" published the news that on the 30th of June at the main celebration of Croatian accession to the European Union German Chancellor Angela Merkel will be among VIP guests who will attend the ceremony. The Government has not still not officially announced who will participate in th ecelebrations but President Ivo Josipovic has said that he hopes that a lot of his colleagues from the region will join him on this historical day. Off the record, the organizers are saying that there will be over 25 EU leaders and presidents present in Zagreb when EU welcomes its new, 28 th member.
According to the Rijeka daily newspapers, the German chancellor will not stay long in Croatia, only a few hours, and her schedule includes the dinner for the guests at Klovićevi Dvori, as well participating in a family photo at the St. Mark's Square. Her arrival certainly has a special importance, according to the Croatian media, considering that the recent messages arriving from Germany and from German media portrayed Croatia as the troublesome country that is still not EU ready and might forther endanger the stability of the Union. Recent articles in the German tabloid Bild described Croatia as not yet ready for full membership in the Union.
One of the most powerful politicians in the world last visited Zagreb in August 2011, when Merkel had an official visit to the former Prime Minister Jadranka Kosor.
Last Friday, the upper house of the German Bundesrat unanimously ratified the Law on the accession treaty between  Croatia and European Union. Germany is the last country to ratify the Accession Treaty for full membership of Croatia.
Addressing the members of the Bundesrat, the German Foreign Minister Guido Westerwelle called the day  of ratification a historical one and rated Croatian accession as a big step for all of Europe. Westerwelle stressed that Croatia has made great efforts to ensure the conditions for entry into the Union. German Foreign Minister concluded that for Croatia there were no discounts.