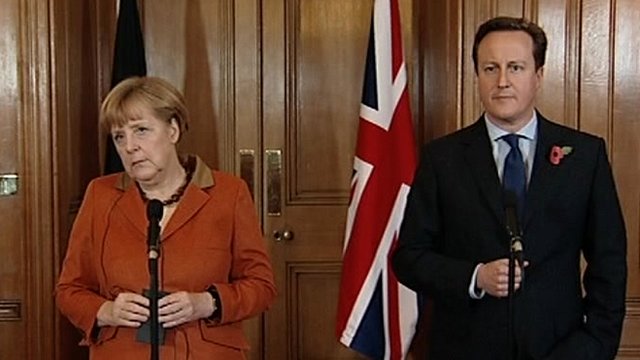 By Thanasis Gavos – London
Angela Merkel's visit to the British capital on Thursday was eagerly anticipated by the Europhiles among the British government hoping for a strong endorsement of Prime Minister Cameron's plans to negotiate the repatriation of powers from Brussels to London.
On Thursday night, after Mrs Merkel's historic speech to both Houses of Parliament, her meeting with Mr Cameron and her tea with the Queen, an air of sombre realisation that things won't be that easy was hanging over Westminster; for such anticipation was in vain.
The German chancellor made it clear with her very first words (spoken in English) that she hadn't come to London to convey a message of support for "a change in the architecture of the EU" which would satisfy the British. But then of course, as a polite guest, she also more or less said she hadn't come with the intention of freezing all of Mr Cameron's hopes either. Even later on she commented that she could work with the UK to reform the EU but "it would not be a piece of cake."
Mrs Merkel would never commit herself either way, especially since there's nothing out there which requires commitment at this point. The British Prime Minister hasn't as yet set out clearly what he means by asking for a renegotiation of the UK's relation with the EU.
There was one thing though that brought the two conservative leaders closer together in terms of policies. In her speech Angela Merkel initially took a hit at the dozens of British politicians disputing the wisdom of the freedom of movement within the EU by saying that "freedom of movement is one of the greatest achievements" of Europe.
But then she added that Europeans also need to find the courage to recognise faults and make them right. A bit later on, during the brief press conference that followed her working visit to Downing Street, Mrs Merkel elaborated  on this when she responded willingly to David Cameron's comment that EU rules on freedom of movement needed to change to ensure people could not move from country to country to sign up for welfare payments.
She agreed that both countries could bring in laws to restrict benefit tourism. Mrs Merkel said the UK and Germany could pass laws to limit this problem as "where there is a will, there is a way." The German chancellor added that freedom of movement was intended to allow people to work in different countries and not "having immigration into social systems."
The two leaders' emphasis on restricting movement for European citizens chasing handouts went some way towards satisfying Eurosceptics in Britain that don't miss a chance to warn against the "benefit hungry" Europeans, especially Romanians and Bulgarians. Very often the same category includes citizens of Poland, the former Soviet Eastern Europe states, but also of countries that have been hit by the crisis, such as Greece.
Mrs Merkel's and Mr Cameron's only firm agreement during the London meeting confirms the entrenched suspicion with which western or northern Europe views the east and the Balkans. Benefit tourism does exist, but it is far from being the main problem of united Europe and the focus on it only reveals a growing schism between "them and us". Changing Europe will indeed not be a piece of cake.