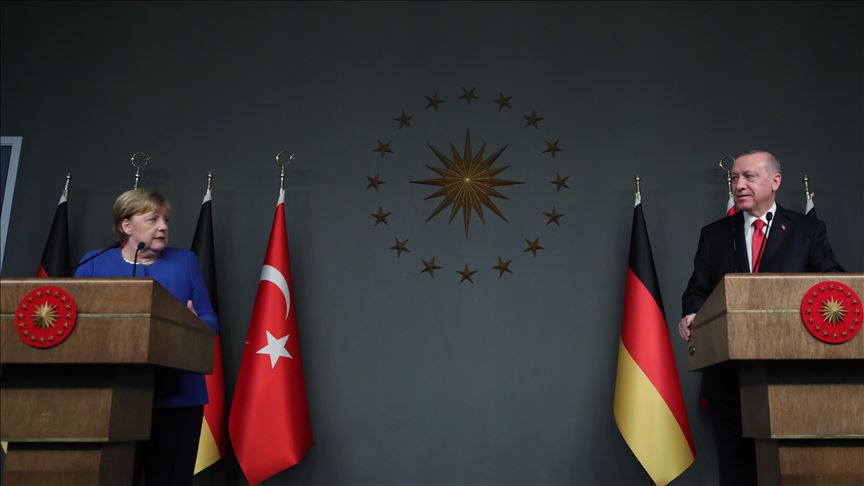 Recep Tayyip Erdogan, as Angela Merkel's visit to Istanbul kicked off, called for a solution to be reached regarding the Libyan issue, while warning that worse days were just around the corner.
"The conflict in Syria has not only affected neighboring countries such as Turkey, but also Germany and Europe. Unless calmness soon prevails in Libya, this state of chaos will affect the entire Mediterranean basin. We must speed up the process of finding a solution if we do not want terrorist organizations such as the Islamic State and al-Qaeda to rise above our heads.
The German Chancellor mentioned Turkey's positive contribution to the refugee issue.
After the inauguration by Merkel and Erdogan, they headed to the Vahdettin Pavilion of the last sultan of the Ottoman Empire, which is today the Presidential Residence in Istanbul.
"If you want to talk with the EU, you have to sort it out with Greece and Cyprus first"
After about 2.5 hours of talks at the press conference, Angela Merkel reminded the Turkish President that Ankara should improve its relations with Greece and Cyprus in order to proceed with negotiations with the EU and the issue of customs union.
Asked if Germany would be supporting Turkey after taking over the EU Presidency, the German Chancellor replied that "both our countries want the customs union to go further. But there are differences with Greece and Cyprus. For such a step to be taken, everyone must be unanimous", she explained.
Erdogan: "We will continue to support Sarraj"
The Turkish President thanked Angela Merkel for the Berlin Process on Libya, stressing that Turkey was one of the countries that had given their most sincere support to the German initiative. The Turkish President said that "the increase in attacks by the coup instigator Haftar shows that this person has no intention of compromising" and that "the support they have given him has spoiled him". "We are determined not to leave our Libyan brothers alone and we will continue to support Sarraj", he stated.
Angela Merkel expressed hope that Haftar would be taking positive steps.
Asked about Libya, the Turkish President said they had completed the process of the Turkish National Assembly on military forces in Libya and training of Sarraj supporters. "By law we sent our delegation and we continue to do so. We will not leave Sarraj alone. We are ready to offer help in any way we can", he said.
Erdogan added that he had difficulty understanding how Haftar managed to receive support from some countries, accusing him of leaving Moscow and not even signing the 55-point Berlin decision. He denounced him for not being consistent, claiming that he was being backed by Abu Dhabi, Egypt and the Wagner team.
There was a disagreement in front of journalists and cameras when Merkel said that "it was important that all sides would support the 55 points. It was not natural to adjust to 55 points. It's a difficult process. Sarraj accepted the ceasefire and put his signature on it and Haftar accepted it as well", she said.
Erdogan then responded, insisting that Haftar did not put his signature, but instead only accepted them verbally. "No one knows what Haftar will do tomorrow, let me just say that", he stressed.
Merkel then intervened, saying that Haftar had indeed accepted the ceasefire as well and had announced a name for a military commission. The Turkish President intervened once again and wondered: "Madam Chancellor, he might have accepted, but did he sign? He did not", with Merkel arguing that there could have been some misunderstanding. "Haftar didn't really say he accepted the 55 points. It was only the ceasefire that he had agreed to. And he did not sign while he was in Moscow. You're right about that", she added.
"Ankara calls for discussions on a package solution in the Aegean" !!!
Against this background, Ankara once again issued a statement on the theory of the demilitarization of the Aegean islands, but this time it called for a discussion to take place on all issues regarding the Aegean and including the Hague alternative.
"We want the issue of the violation of the Aegean islands' demilitarization status along with other Aegean problems to be resolved through talks. And when we say this, we do not rule out methods of a mutually peaceful resolution that we will agree on, including the International Court of Justice", Foreign Ministry spokesman Hamy Aksoy said in a statement.
"As our President has proposed during the negotiations with Prime Minister Mitsotakis both in New York and in London, our country is ready to revitalize all channels of communication, including exploratory contacts with Greece and even the opening of a new communication channel regarding the Eastern Mediterranean.
But instead of Greece responding positively to this proposal, instead of them sitting down and talking to us, as usual they go and complain to the EU, hoping to get help from others. This attitude is not just about seriousness and good neighborly relations. Greece is making a big mistake by hoping to get results by using third countries whenever it finds itself cornered", the statement concludes.
Ankara shows its intentions to argue that there are many issues in the Aegean, raising the issue of demilitarization while Greece accepts dialogue and argues that the only disagreement with Turkey is the Continental Shelf issue. /ibna