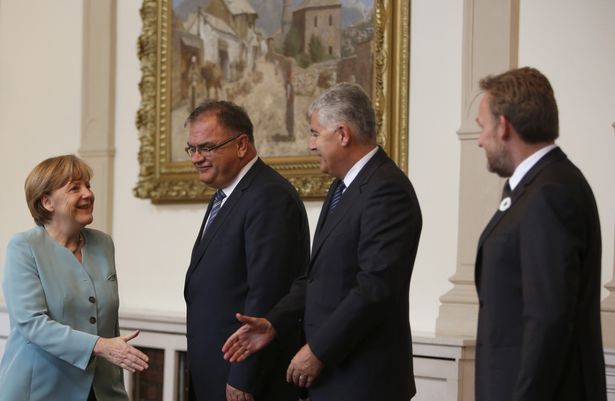 Sarajevo, July 9, 2015/ Independent Balkan News Agency
By Mladen Dragojlovic
German Chancellor, Angela Merkel, continued her Balkan Tour with a visit to Sarajevo, where she emphasized that BiH "has a place in my heart" and that the country is important for regional development.
"We see that whole region can prosper if BiH is well developed. I am glad that the Stabilization and Association Agreement with the EU is now in effect and it must be followed by the next step – adoption of reforms agenda. We said that it is easy, but it will be necessary to make tough decisions. Also, we know that BiH have problems which must be overcome but they are complicated. Without BiH, stability in the region cannot be achieved", Merkel told the media after meeting with BiH Presidency members.
Merkel added that Germany and United Kingdom suggested to the EU a new initiative for BiH and the result is the adoption of the SAA. Germany, as Merkel said, strongly supports the BiH path toward candidate status.
Merkel emphasized that Germany established Berlin initiative with the aim to enforce the whole region on the way to EU.
"I will participate on the conference in Vienna, and every year other EU countries will improve that initiative", Merkel said.
She also emphasized that EU was created from terrifying experiences in WWI and WWII. But, Merkel also said that Germany and England became friends after 100 years of wars. She expressed her hope that EU can help this region become a region unafraid of new conflicts, a region which will live in peace.
Answering the journalists' insistence to comment the UN Security Council failure to adopt Resolution on Srebrenica and Russian veto, the German Chancellor answered that the voting show that there are different viewpoints on this question.
"Most important is to remember the victims and it is happening. We remember the victims with an eye to the future", Merkel said.
BiH Presidency Chairman, Mladen Ivanic, said that, during the meeting, he emphasized that BiH is not an ideal country but, compared with the difficulties in the country, it functions well and opens perspective to its citizens.
"To many things divide us, but there are also many things that bring us together. For example, we all want a better educational system, more jobs and more positive approach to problems", Ivanic said.
He also said he believes that in the next few weeks a plan of reforms will be agreed. As Ivanic said, it is possible with a minimum effort. Ivanic also informed reporters that BiH is close to solving the problem of "coordination mechanism".
"After the agreement about a reforms plan and a "coordination mechanism", we will be able to submit the application for membership in the EU. Our plan is to submit it until the end of next year or in the first months of 2017, but we know that the answer on the application will be positive when we solve "Sejdic – Finci" problem, Ivanic pointed out.
During her visit, Merkel met with the Chairman of BiH Council of Ministers, Denis Zvizdic, who welcomed her upon arriving in Sarajevo, as well as representatives of mothers of Srebrenica victims.