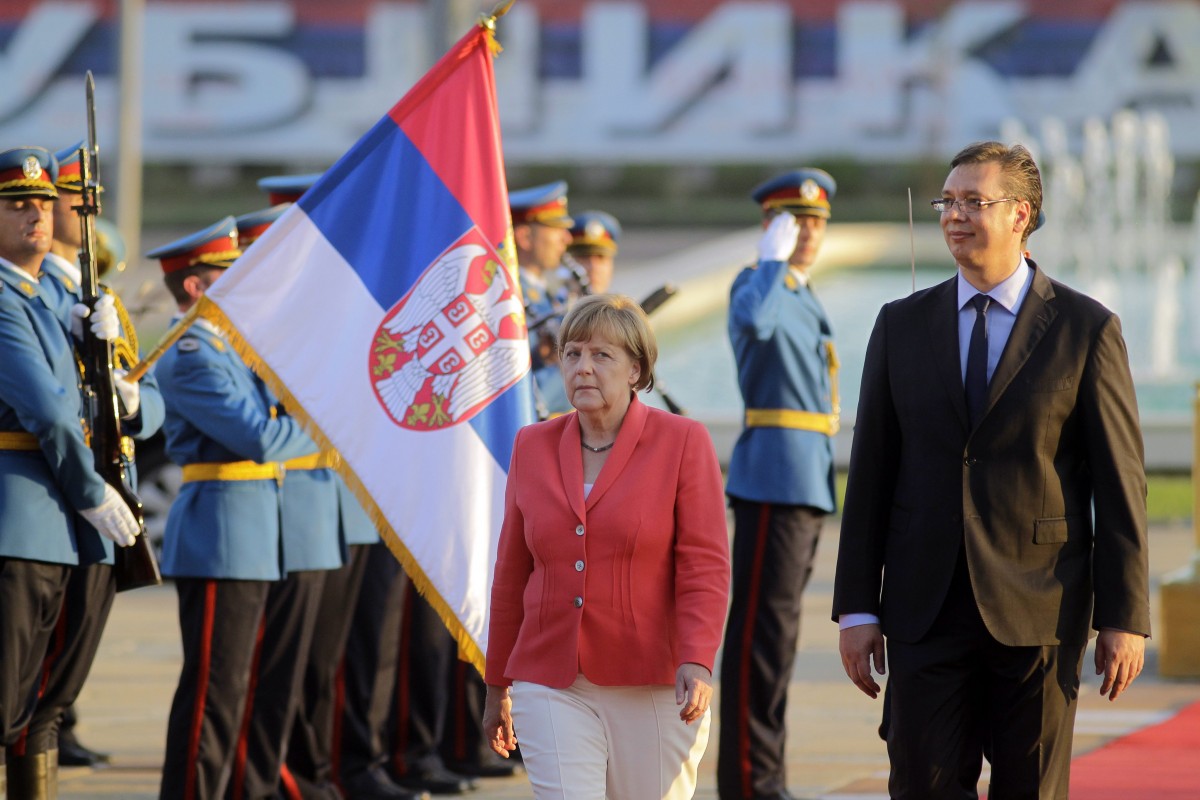 Belgrade, July 9, 2015/ Independent Balkan News Agency
By Milos Mitrovic
Serbia has demonstrated significant level of readiness to find the compromise solution in the dialogue with Pristina, German Chancellor Angela Merkel said in Belgrade on Wednesday evening. Merkel is in two-day visit to Serbia, one of stops in her regional tour.
Belgrade has also showed a number of initiatives focused to promote stability and peace in the Western Balkans, she went on. At the press conference with her Serbian counterpart, Merkel explained that the opening of the first chapters in Serbia-EU accession negotiations is the matter of time. She did not give any details considering the chapters.
Serbia officially started talks last January, but due to EU's insistence on full normalization of the relations between Belgrade and Pristina – including the formal agreement which would mean Serbia's de facto recognition of Kosovo's independence – none of the chapters have been opened so far. Germany leads in the EU's efforts considering the normalization process.
"When opening of the chapters come at the table, this should be taken into account and the efforts praised", Merkel said alluding to Belgrade's readiness for compromise.
Until certain period of time, it was unimaginable to see negotiations of some 13 or 14 hours with moderation of EU's high representatives, just like the encounter of Serbian and Albanian prime ministers was unimaginable. But this is regular now", German Chancellor underlined.
In Merkel's words, economic situation in Serbia is different than in Greece – Serbian government is willing to choose the path which would bear fruits rather than an easy way. She compared Serbia with Spain and Portugal, countries which have adopted austerity measures.
"Great honor" for Serbia
Premier Vucic thanked Merkel for her "contribution to the politics of peace and good relations in the Balkans". Furthermore, he said that Merkel is "key player in stabilization of the Balkans".
"We are not asking alms from Germany, but rather assistance in the knowledge in order to become diligent just as they (Germans) are, Vucic explained adding that in economy Serbia intends to be more successful then Germany.
He mentioned that he has two advisers from Germany.
"The visit of Ms Merkel is great honor and important day for Serbia. I want to thank Ms Merkel because she was, in a way, pillar of stability to all of us. And when we were faced with the problems, she was willing to find the way to help us. I am not embarrassed to say – Germany takes care of Serbia and we are grateful for this", Serbian Prime Minister emphasized.
Merkel also stressed that Serbia is faced with significant challenge because of the "immigrant problems" recalling to the ongoing debates within the EU considering this issue. She said that nobody should install the walls because of the refugees' wave alluding to Hungary's decision to set barbwire on the border with Serbia.
On Thursday, Merkel will meet Serbian president Tomislav Nikolic and the representatives of the Serbian civil society institutions.