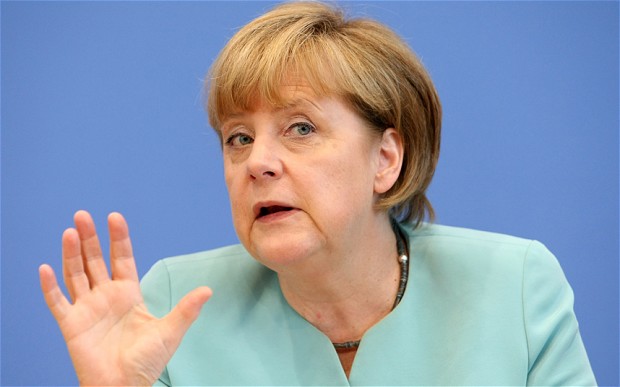 By Milos Mitrovic – Belgrade
Talking about Ukraine crisis German Chancellor Angela Merkel has warned on Russian influence in Serbia, Moldavia and Georgia, German media report. Merkel said that Ukraine crisis "is not just a regional problem, it affects all of us", Tanjug news agency quoted her as saying.
"It's not just about Ukraine. It also affects Moldavia, Georgia and if it continues to go further… Than one have to ask about Serbia, Western Balkan countries", Merkel said in Sydney where she held a speech at the "Loui" Institute for International Politics.
According to German Chancellor Russia acts alike Soviet Union, treating Ukraine as its influence sphere and trampling on international law.
"After the terrors of the Second World War and the end of the Cold War this puts at risk European peace project", Merkel said alluding to European Union.
Merkel stressed she doesn't want the renewal of GDR times when a single action was not possible without consent of Moscow. She added that EU is not GDR which has been "ducking" before the Moscow.
"Otherwise, one might say – we are too weak, watch out people, we cannot accept anyone (into EU membership) any more, and we have first to ask Moscow if this is possible. This is how it used to be for 40 years and I really don't want this again", Merkel underlined.
Russia's Vladimir Putin strategy in the Balkans has alarmed the government in Berlin, German weekly Spiegel reports. It stresses that Merkel's cabinet is disconcerted due to Moscow's "aggressive anti-Western" politics in the Balkans.
Spiegel reveals a confidential document which states that Kremlin is trying to bind Serbia through military cooperation and gas supply.
"Gas for Serbia, pressure on Bosnia-Herzegovina – Berlin is concerned over Russian power policy in the Balkans. President Putin obviously strives to distance this countries from the EU", Spiegel reports on document of the German Foreign Ministry.
Elmar Brok, head of the European Parliament Foreign Affairs Committee and member of Merkel's CDU, claims that Putin puts pressure on Balkan countries to distance themselves from the EU or to take pro-Russian positions as the EU members.
Christian Schmidt, German Agriculture Minister who recently visited Bosnia says that it seems that Russia is trying to affect the country via Republika Srpska, a Serb entity in Bosnia which has strong links with Moscow. This also complicates Serbian path to EU, Schmidt explains.